'High performing' Google exec quietly breaks stratosphere jump record (VIDEO)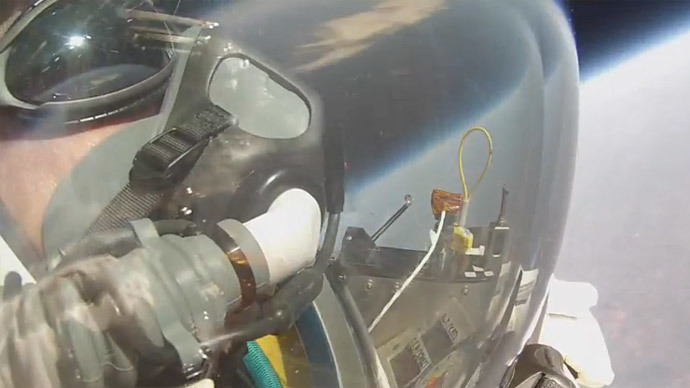 A new world record for the highest sky dive has been set by a senior Google VP who plummeted from 135,890 feet above the Earth, excelling daredevil Felix Baumgartner's record jump from the edge of space two years ago.
One of Google's top executives, Vice President of Search Alan Eustace, broke the standing record by more than 8,000 feet, according to United States Parachute Association. Felix Baumgartner jumped from of an altitude of "only" 127,852 feet on 14 October 2012.
"I knew I had high performing people working for me," Google CEO Larry Page wrote on Google+. "But breaking the sound barrier falling in a space suit from a 135,890 foot high balloon ride this morning?"
Google's search king began his rise to the top in the New Mexico desert in his helium-filled balloon. After ascending into the sky for two hours to reach the desired altitude of more than 25 miles he cut himself loose with a small explosive device.
Wearing a custom pressurized spacesuit developed by ILC Dover, Eustace headed back to Earth, breaking the sound barrier and reaching a velocity of 822 miles per hour.
"It was amazing," Eustace told the New York Times. "It was beautiful. You could see the darkness of space and you could see the layers of atmosphere, which I had never seen before."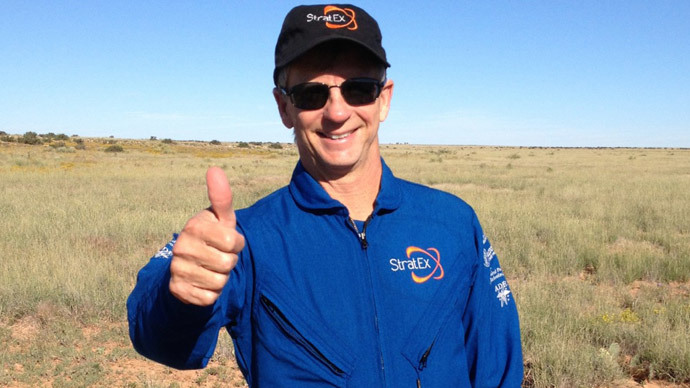 Eustace jumping experience was recorded by GoPro cameras connected to his ground-control center by a simple radio.
Unlike Baumgartner's Red Bull-sponsored jump in 2012, which received a lot of media attention, Eustace's descent was kept a relative secret and was done as a private initiative, not sponsored by Google.
Today, Googler Alan Eustace skydived from the stratosphere. Really. Read how he did it: http://t.co/Tk34XyyOoLpic.twitter.com/IdBwywkIha

— A Googler (@google) October 24, 2014
Paragon Space Development Corporation headed the technical and logistical part of the StratEx project (Stratospheric Explorer) that took nearly three years to develop. "The core team consisted of less than 20 people," Taber MacCallum, formerly of Paragon, told WIRED.
My buddy, Julian Nott (pictured below w Alan Eustace), was the ballon specialist for this jump http://t.co/ZijX8ncPRzpic.twitter.com/m0TRkmdIPm

— Michael Eades, M.D. (@DrEades) October 24, 2014
You can share this story on social media: