​Bulgarian woman sets herself ablaze outside president's office (GRAPHIC VIDEO)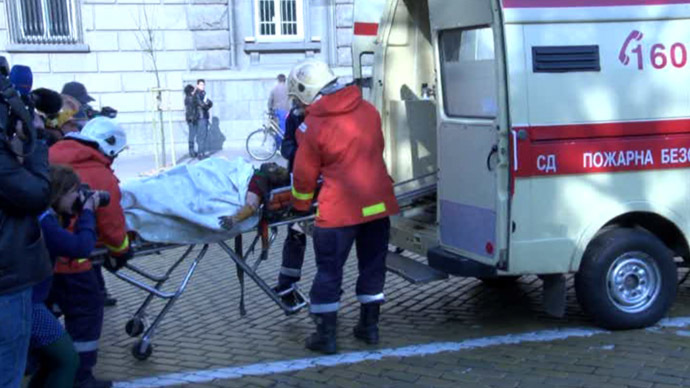 A 38-year old woman stepped out of a taxi near the government building in central Sofia before pouring flammable liquid on her body and hair and setting herself alight.
Bystanders rushed towards her to put out the flames, and called firefighters and an ambulance. Her condition remains critical, as she is being treated for severe burns to her head and hands.
The woman was identified by doctors as Lidia Petrova, a resident of Novi Iskar, a northern suburb of Bulgaria's capital.
The motives behind the incident, which took place Sunday, are still unknown. An emergency room doctor told reporters that Petrova has a history of unspecified mental illness.
"We are continuing to fight for her, but burns like these are incompatible with life," a doctor, Ognyan Hadzhiyski, told AFP. The woman had sustained burns over 90 percent of her body.
There were six similar cases of self-immolation in Bulgaria, one of the poorest countries in the EU, last year, amid desperation and misery over rising poverty. Seven years after joining the EU, 25 percent of Bulgarians live below the poverty line.
The self-immolation took place as talks about forming a minority government, led by President Rossen Plevneliev, were under way, after an inconclusive parliamentary election last month.
Citizens for European Development of Bulgaria (GERB), a center-right party, won the snap elections, but did not get an absolute majority. The coalition is set to include far right as well as nationalist and center left factions.
GERB has previously faced staunch public opposition. In early 2013, demonstrations swept through Bulgaria, bringing down the GERB-led government.
READ MORE: Bulgaria govt resigns over austerity
Last week, protests broke out again over low living standards, a banking crisis, and suspected government corruption.