'Thank you, Aussies!' gaffe & Wurst serenades: Ban Ki-moon in Austria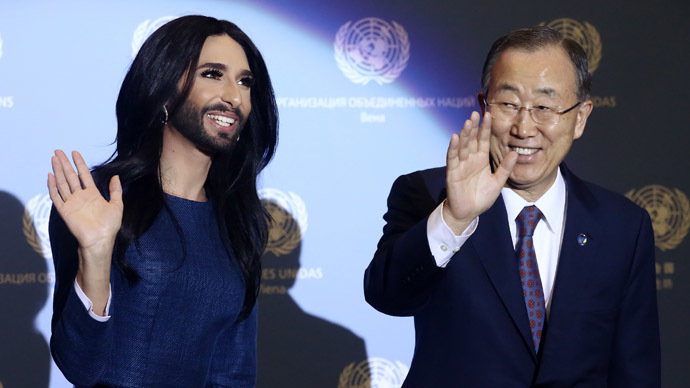 The UN Secretary General's visit to Vienna was marked with a spectacular faux pas: Ban Ki-moon mistook Austria for Australia, leading some reporters to wonder if his gaffe was due to being serenaded by cross-dressing star Conchita Wurst.
"I thank in particular (Austrian) President (Heinz) Fischer and the government of Australia," he said at a UN conference, later correcting himself and apologizing.
"There are no kangaroos in Austria. Sometimes this happens, I hope you understand," the UN chief said.
As for Conchita Wurst, the winner of the 2014 Eurovision Song Contest performed in front of Ban to promote her dream of a future without discrimination, she said. The 25-year-old Austrian singer spoke about her dream of a future in which people do not find it necessary to talk about their "sexual orientation" or the "color of their skin." Wurst said she believes such matters are "not important."
"I dream of a future when we don't have to talk about sexual orientation, the color of your skin, your religious beliefs, because this is not important when it comes to society. Of course it is important for the human being but it is not important for society and I would welcome you to join us, to join those people, who think of this future," she said.
Ban ki moon with gay singer Conchita Wurst as s/he performed in the UN today, promoting diversity and tolerance pic.twitter.com/eFyY0Mqes4

— Evronia Azer (@evronia) November 3, 2014
Wurst, also known as Tom Neuwirth, became a heroine in the Lesbian, Gay, Bisexual and Transexual (LGBT) community in May, after winning the Eurovision title in front of a TV audience of about 180 million people in 45 countries.
UN Secretary-General Praises Conchita Wurst and Her Human Rights Advocacy http://t.co/oJ2p0Xj4DVpic.twitter.com/WpOrMOBzG4

— Towleroad (@tlrd) November 3, 2014
"This year I extended benefits to same-sex partners of UN staff members...Discrimination has no place in the United Nations," Ban said ahead of Wurst's introduction. "When I heard that she won this Eurovision song contest I immediately knew that she was a star of the world."
Discrimination has no place in the UN + the 21stcentury World! UNSG Ban mtg @UN staff Vienna alngside Concita Wurst pic.twitter.com/MKA5O8LdUh

— Thomas Gass (@ThomasGass) November 3, 2014
Konchita later sang 'Rise Like a Phoenix,' the song that won Eurovision's top prize. At the event, the secretary-general also welcomed Hilda-Olivia Sarkissian, the first staff member in Vienna to receive full marital recognition for her family under the new policy, following the extension of benefits to same-sex partners of UN staff members earlier this year.
You can share this story on social media: