Canada carries out its first airstrikes against Islamic State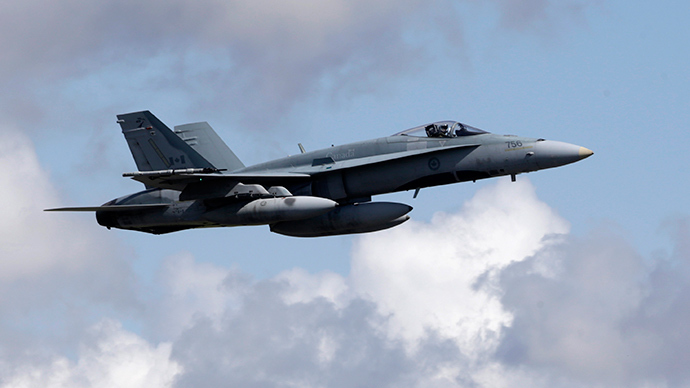 The Canadian Air Force has completed its first strike against Islamic State militants in Iraq. Poor weather had previously hampered combat missions as currently Canadian fighter jets aren't armed with all-weather laser-guided bombs.
"Coordinated with our coalition partners, two CF-18s (Hornet fighter jets) attacked ISIL targets with GBU-12 laser-guided bombs in the vicinity of Fallujah, Iraq," said a statement issued by Canadian Defense Minister Rob Nicholson.
"The approximately four-hour mission included air-to-air refueling from Canada's Polaris aircraft. All aircraft returned safely to their base," the statement said.
The outcome of the airstrike, which was the Canadian Air Force's first combat action since the war in Libya three years ago, is still being assessed.
"We are all proud about the first strike," an officer in Ottawa familiar with the operation told Canada.com.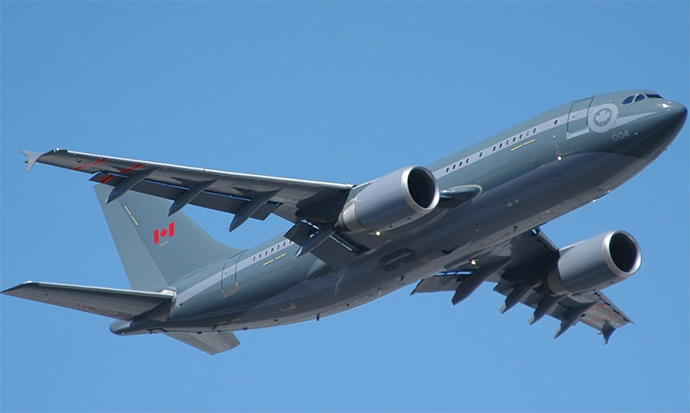 Because laser-guided bombs can only be used in good weather, Canadian pilots had been unable to perform missions in Iraq for a couple of days, when the weather was cloudy. Now the task force expects GPS-guided bombs to arrive from Canada. This will enable operation against the Islamic State (IS, formerly ISIS/ISIL) in all-weather mode, using a mix of laser and GPS-guided bombs.
"We have established an air bridge between Canada and Kuwait and expect them to arrive and be used in the coming days," said Lt.-Col. David Devenney, Director of Public Affairs for the Royal Canadian Air Force (RCAF).
Last week, Canada's Department of National Defense purchased 400 bomb-guidance kits from the US, which make 'smart' bombs operate flawlessly in poor weather conditions.
In the meantime, Canadian pilots are getting used to the Iraqi terrain and cooperating with aircraft and land control structures from the 11 countries that form the anti-IS coalition.
In early October, Canadian lawmakers voted in support of joining the US-led international coalition against the Islamic State.
Following the decision, Canada dispatched six Hornet CF-18 fighter jets, two CP-140 Aurora maritime patrol aircraft, an Airbus CC-150 Polaris air-to-air refueling tanker and 600 troops to combat IS militants. The contingent stationed at an air base in Kuwait joined Task Force Iraq on October 30.
Canadian Prime Minister Stephen Harper stressed the nation's troops won't take part in any ground operation against the Islamic State.
CP-140M Aurora spy planes, upgraded with mostly Canadian-built electro-optical and infrared sensors, are being actively deployed in Iraq's skies, though the main purpose of these aircraft is anti-submarine warfare.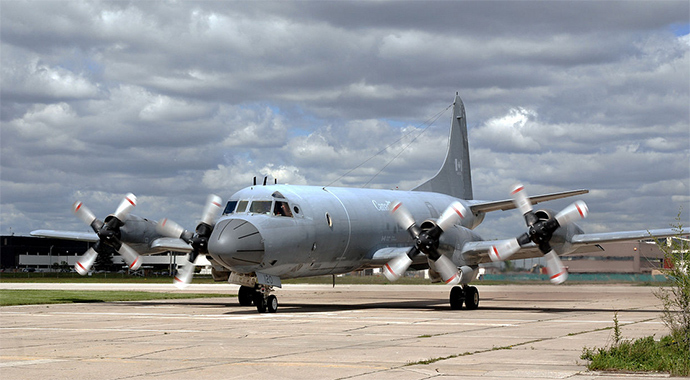 "We are extremely pleased with how it is going, especially the Aurora," Lt.-Col. Dave Devenney, spokesman for Joint Task Force Iraq, said by phone from a base in Kuwait. "They've been giving a good, clear image that allows us to assess the effects that coalition aircraft have been having on the ground," he said.
The Islamic State has already promised to target Canadians, Australians and others nations that have joined the anti-IS coalition. The extremists say they won't make any exemptions for diplomats and members of their families, either.
With this in mind, Lt.-Col. Dave Devenney said that Canadian servicemen are staying within the guarded perimeter of the airbase in Kuwait and are unlikely to leave the compound.
"Regardless of what the threat may or may not be, we have had no need to be outside the base. We are still building our camp and have been focused on getting operations underway. There is still so much to do," Devenney said.
You can share this story on social media: