'Women and children dumped in a well': ISIS massacres 322 Sunni tribesmen in west Iraq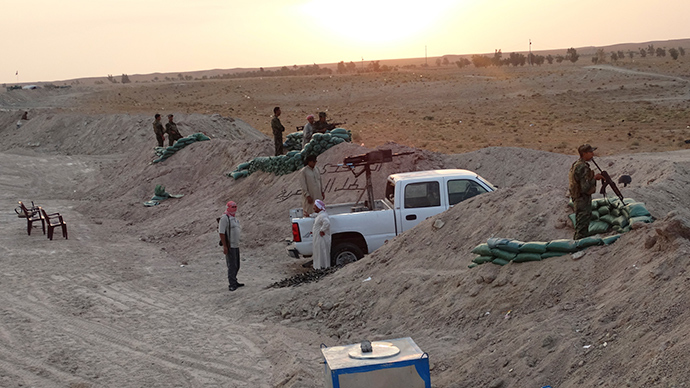 The Iraqi government said Sunday that at least 322 members of the Al-Bu Nimr tribe were murdered by Islamic State fighters over the past week, including dozens of women and children whose bodies were found dumped in a well.
Tribal leader Sheikh Naeem al-Ga'oud said that 75 members of his tribe were killed on Sunday while trying to escape the Islamic State (IS, formerly ISIS). They were gunned down and dumped near the town of Haditha.
"The number of people killed by Islamic State from Al-Bu Nimr tribe is 322. The bodies of 50 women and children have also been discovered dumped in a well," the country's Human Rights Ministry said on Sunday.
The Al-Bu Nimr tribe is a Sunni clan that has been fighting the Islamic State. The tribe held IS off in western Anbar province for weeks, before running out of fuel and ammunition. After the clan withdrew, IS rounded up the members and has been executing them since the beginning of last week.
Al-Ga'oud also told Reuters that IS fighters had killed 50 members of his tribe who were fleeing IS in Anbar province on Friday. They were on foot in a desert area of the province near Tharthar Lake when they were intercepted and killed by IS.
Ga'oud said he had asked the Iraqi central government on numerous occasions to provide his tribe with arms and men – but received nothing.
In a separate incident, a security official from Anbar said that 35 bodies had been found in a mass grave.
Week of slaughter and executions
The news comes after around 200 members of the Al-Bu Nimr tribe were slaughtered on Thursday.
More than 150 people from the Albu Nimr tribe were found in a mass grave near Ramadi in Anbar province on Thursday morning. IS militants took the men from their villages to Ramadi for the sole intention of executing them. Police and security officials said they discovered the grave on Thursday morning, and believe the bodies were shot on Wednesday evening.
Most of the bodies were of Al-Bu Nimr tribal fighters who had withdrawn after being under siege by IS for weeks. They fled to their main village of Zauiyat Al-Bu Nimr, but were then intercepted by IS militants who shot them and dumped them in mass graves.
In a separate case, the bodies of more than 70 Al-Bu Nimr men were found in a mass grave near the town of Hit, roughly 80 km northwest of the provincial capital of Ramadi, Reuters reported.
"Early this morning we found those corpses and we have been told by some Islamic State militants that 'those people are from Sahwa, who fought your brothers the Islamic State, and this is the punishment for anybody fighting Islamic State,'" a witness of the event, who declined to state his name for fear of his own safety, told Reuters.
IS offered the men safe passage from their villages to the town of Hit, but then seized and shot them, tribal leaders told Reuters.
In another violent massacre, IS lined up 30 members of the tribe on Wednesday morning in the center of Hit, and shot them after parading them through town.
According to Sabah Karhout, the chairmen of Anbar provincial council, those killed were Sunni tribal fighters allied to the Iraqi government and members of the Iraqi security forces.
"These killings are taking place on a daily basis now in the areas under the control of the ISIS group and they will continue unless the terrorist group in stopped," Faleh al-Issawi, another council leader in Anbar, told AP.
READ MORE: Battle for Baghdad: ISIS now within 8 miles of airport, armed with MANPADS
The Islamic State controls vast swathes of Anbar province, which is of strategic importance as it stretches from the Syrian border down to Baghdad. The militant group also has a large air base and the Haditha dam on the Euphrates River encircled.
You can share this story on social media: