Ukrainian battalion leader-turned-MP ready to 'organize blasts in Russia'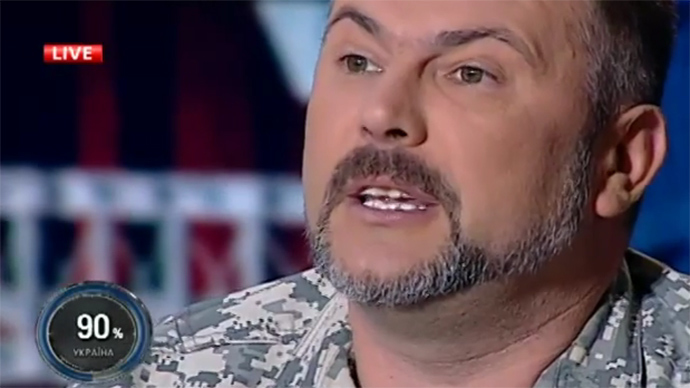 Ukraine's volunteer battalion leader, who is now also an MP, said on a Ukrainian television show that the battalions are ready to "intrude" into Russia. He spoke about intended terrorist acts before being cut off by the show's host.
"I will speak on behalf of the volunteer battalions, because I have more information...Today we are ready not just to defend [Ukraine], but to invade the Russian Federation, break into it with reconnaissance detachments and sabotage groups," the leader of the Dnepr-1 (Dnipro-1) battalion Yury Bereza said on Sunday during the 'Shuster Live' TV show.
Bereza spoke about carrying out bombings inside Russia before he was cut off by the show's host, who said the comments made "people nervous."
The Ukrainian military commander of the battalion, sponsored by Ukrainian oligarch Igor Kolomoisky, recently became a lawmaker after being elected to the country's parliament.
Bereza was recently criticized in the media after reports appeared that he ran away from the heavy battle scene near the town of Ilovaysk in eastern Ukraine, leaving his volunteer troops behind. Kiev's fighters were encircled by local self-defense forces in the area, with Ukrainian officials later announcing hundreds of casualties.
READ MORE: Ukraine president blames military failure on deserting commanders
After the Ilovaysk failure, Bereza announced he would "be drinking beer on the ruins of the Moscow Kremlin."
During a meeting with people in a Ukrainian town after the parliamentary elections, Bereza also shared his intentions of becoming the country's new defense minister.
Bereza's volunteer battalion is one of dozens of units formed this year by Maidan activists and ultranationalists of the Right Sector umbrella group in Ukraine. As an irregular force assisting Kiev in its military assault on eastern Ukraine, such groups have been reported to be using fierce tactics.
The recent UN report on the human rights situation in Ukraine covering the period of August 18 to September 16 accused volunteer battalions, such as Dnepr-1, of violating international humanitarian law – "including the principles of military necessity, distinction, proportionality and precaution."
Specific evidence of "beatings, poor nutrition and lack of medical assistance" are also mentioned in the report. The UN expressed special concern over the "enforced disappearances, arbitrary detention and ill-treatment allegedly perpetrated by members of the volunteer battalions," in particular Dnepr-1.
"The government needs to exercise more control over all of its forces, including the volunteer battalions, and to ensure accountability for any violations and crimes committed by their members," the UN report stated.
You can share this story on social media: