​Mandatory Mandarin: Portuguese kids take compulsory Chinese class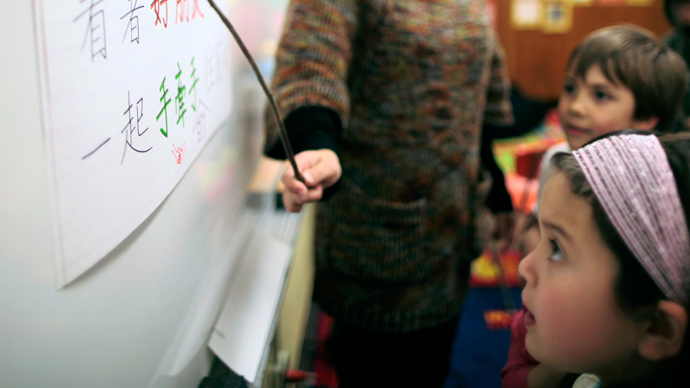 A town in northern Portugal has made Chinese obligatory for 8- and 9-year old school children, in order to boost the kids' abilities for future competition in the thriving Chinese market.
Sao Joao da Madeira, with only 20,000 residents, is regarded as the country's shoe capital, specializing in luxurious footwear.
The authorities there are sure that a good command of Mandarin will ensure a foothold for the Portuguese in China.
"Chinese is the key which will open the doors to the world's biggest market," Dilma Nantes, Sao Joao da Madeira's city councilor on education, said.
The children also seem to enjoy learning Chinese and dream of visiting China.
"I would like to see the Great Wall," nine-year-old Eduardo told AFP, while his classmate Daniela reckoned Chinese was "not particularly difficult."
Their teacher confirmed the children's progress, saying with a smile, "they are learning very fast."
The financial crisis has seen unemployment in Portugal soar by 17 percent, making it one of the sickest economies in the eurozone.
China is the world's biggest producer of footwear, with an astonishing number of 10 billion pairs per year. However, wealthy Chinese are fond of Portuguese shoes, the second most expensive after Italian - exports skyrocketed from 10,000 pairs in 2011 to 170,000 pairs in 2013.
Last year, revenue topped €20 million.
You can share this story on social media: