Portugal leaves bailout program with 214bn euro debt, 4% lower GDP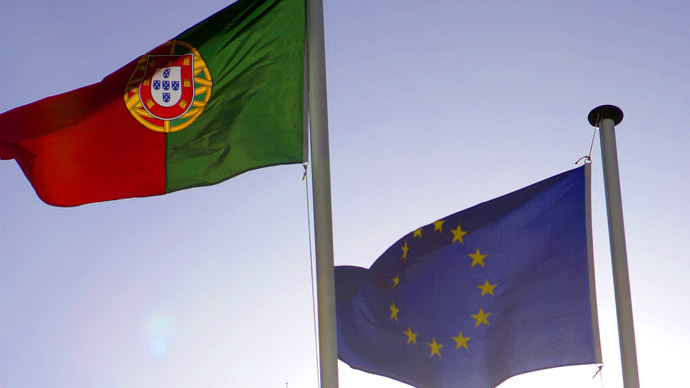 Portugal exited its international bailout program on Saturday, regaining its economic sovereignty, which it lost after the European debt crisis. However, the country's GDP is four percent lower than in 2010, a year before it asked for financial help.
The country will become the second eurozone country to leave the bailout after Ireland. Portugal underwent three years of painful austerity, in order to receive a 78-billion euro loan (106 billion US dollars), to help a nation that was on the verge of bankruptcy.
However, not everything has gone smoothly for Portugal, with the end of the bailout coming at a time when data has shown the country's economy contracted by 0.7 percent in the first quarter of 2014. Overall, the country's GDP is four percent lower than in 2010, a year before they asked the International Monetary Fund for financial help.
The Iberian country is 214 billion euros in debt (293 billion US dollars), which is the third highest in the eurozone. The Portuguese government has focused on trying to increase exports, but this has been hampered by volatile markets abroad. There have been some positive signs, such as the Portuguese government's success in reducing unemployment from its peak of 17.5 percent in 2013, to 15.1 percent at present, while borrowing costs are at an eight-year low.
The drop in unemployment has been aided by new rules, which make it much easier for firms to hire and fire workers. Labor costs in Portugal fell by 8 percent to 11.60 euros between 2011 and 2013, according to the EU statistics agency, Eurostat.
Nicholas Spiro, managing director at Spiro Sovereign Strategy in London, said: "It is still a job half done. The danger is that the reforms grind to a screeching halt. There is a very high risk that that happens."
With the bailout, Portugal has also sold assets, raised taxes on everything from wages to diesel cars and reduced budget spending by 12 billion euros since 2010. According to Bloomberg, the government said on January 9 it raised 8.1 billion euros from asset sales, more than the proceeds of about 5 billion euros projected in the bailout program.
Last year, it sold shares in its postal service, CTT-Correios de Portugal SA, in the country's first initial public offering since 2008, and also sold airport operator ANA-Aeroportos de Portugal SA. Earlier it sold stakes in utility EDP-Energias de Portugal SA and in REN-Redes Energeticas Nacionais SA, Portugal's power and natural gas grid operator.
Although Berlin and Brussels have hailed Portugal's clean exit from its EU bailout, it has not been popular at home.
"There is a great need in Brussels and Berlin and other capitals to present Portugal and Ireland as success stories. They will claim that their reforms in Portugal have been a success- well, they haven't, they have destroyed the society and economy," Rui Tavares, an independent Portuguese MEP told RT in April.
Portugal's high unemployment has forced the workforce to look abroad for work opportunities, increasing emigration.
During the past 3 years, the work force has defected for more robust neighboring economies in record numbers. In 2012, this reached a new high of 120,000 émigrés, which was coupled with Portugal's lowest birth rate.
Another harrowing reality is that while many people are struggling with tough austerity measures, a disproportionate amount of people are getting richer and richer. In Portugal, the top 20 percent make six times more than the bottom 20 percent.
You can share this story on social media: