Merkel's diamond: 'Chancellor's trademark' hand gesture gets its own emoticon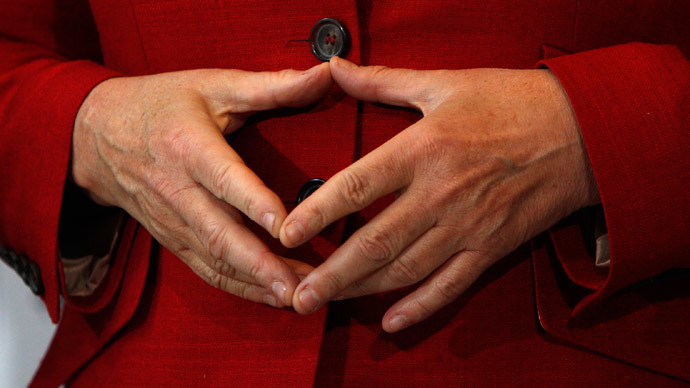 German Chancellor Angela Merkel's well-known hand gesture, which resembles a diamond or rhombus when clasping her hands together, has its own emoticon. The famous gesture now has a special place in social media.
"@thei100: Presenting the Angela Merkel emoticon (-_-) -<>- http://t.co/BvvCeYqbBqpic.twitter.com/OZMfJ4arp3" watever, she is still powerful

— Oghene Blessings (@Oghene6) October 31, 2014
The Merkel diamond has become one of the most famous hand gestures in the world and has become synonymous with the German chancellor. It is known as the 'Merkel-Raute' in German and sees her resting her hands in front of her stomach, with the thumb and forefingers touching, to create a diamond.
Angela! Be careful with Super Glue! pic.twitter.com/kQf2F2Fpwu#merkelraute

— Redexec (@redexec1) August 10, 2014
The gesture became so famous in Germany that it was even used in last year's elections by the Christian Democratic Union, which Merkel heads.
"This carries to extremes the personalisation strategy of the CDU in the final weeks before the election," wrote political commentator Philipp Wittrock on Spiegel Online in September 2013. The mosaic encompassed an entire building in the German capital Berlin, which was next to the city's main train station and a whole host of major political buildings, such as the Reichstag.
#merkelemoticon? Wir haben #dasoriginal <> #merkelrautepic.twitter.com/UAc65hZHoR

— CDU Deutschlands (@CDU) October 29, 2014
"There was always the question, what to do with your arms, and that's how it came about," she told the women's magazine Brigitte in 2013. "It contains a certain symmetry."
Merkel is a big football fan and would have undoubtably been pleased that one of the country's footballers decided to copy her diamond gesture.
National team and Borussia Dortmund goalkeeper, Roman Weidenfeller, playing in an international against England had his hands clasped in true Merkel fashion.
hat sich da jemand die Körperhaltung unserer Kanzlerin abgeguckt? #engger#merkelraute@Sportschau_livepic.twitter.com/7HBH24b5QA

— Aule (@aule80) November 19, 2013
The craze hit social media a long time ago, with a meme created of the CDU's election campaign.
Zeit für die wöchentliche Merkelraute. Wie immer mehr auf http://t.co/GBZhSY5GiApic.twitter.com/2DLx8UhUHn

— ⓔⓓⓦⓐⓡⓓ ⓢⓜⓤⓓⓔⓝ (@smu1401) September 11, 2013
Foto: Merkel-Raute #3 [Burns-Raute] http://t.co/glPJvIwLBb

— CHM.DIGITAL GMBH (@chm_digital) September 5, 2013
Foto: merkelraute: Merkel-Raute #54 [Grumpy-Merkel-Raute] eingereicht von daseinhorn2013 Grumpy Merkel von... http://t.co/IGQC2YwW50

— Etsy Deutschland (@EtsyDE) September 9, 2013
You can share this story on social media: