Turkey wants anti-Assad army in control of Kobani – Turkish PM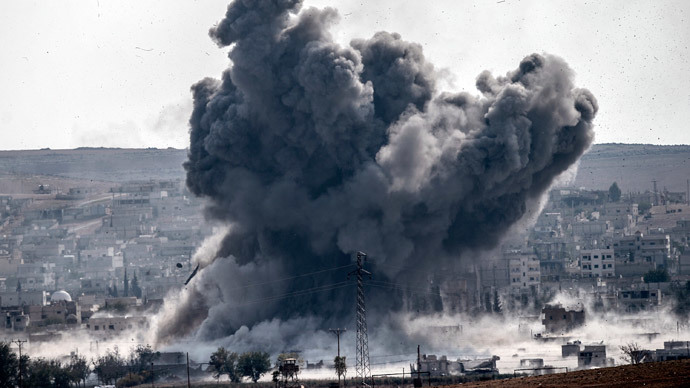 Turkish Prime Minister Ahmet Davutoglu says Ankara wants the Free Syrian Army, renowned for its opposition to President Bashar Assad, to gain control of the northern Syrian border town of Kobani which has been besieged by Islamic State jihadist fighters.
Davutoglu made the comments during an interview with the BBC broadcast Tuesday, and demanded that an "integrated strategy" be implemented under which the US would provide the Free Syrian Army with arms and training to oust Assad.
The US should "equip and train the Free Syrian Army so that if ISIS leaves, the regime should not come," Davutoglu said. "If ISIS leaves the PKK terrorists should not come, if ISIS is eliminated, the brutal massacres should not continue."
"So there is a need for an integrated strategy."
Turkey has expressed concern that Kobani could be taken over by the PKK – Kurdistan Workers Party – which is also deemed a terrorist group.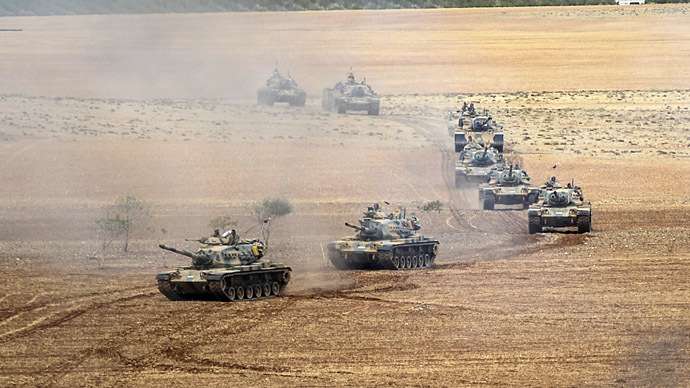 READ MORE: Turkey to allow Iraqi Kurds to join battle against ISIS in Kobani
The predominantly Kurdish town of Kobani has been besieged by the Islamic State (IS) since September and Kurdish peshmerga troops have been struggling against the militants ever since. The assault sparked a mass exodus of Kurds amid fears of a massacre.
On Tuesday, scores of Iraq's Kurdish peshmerga fighters joined the fight against IS, heading to Kobani via Turkey.
The Kurdish fighters are leaving the city of Irbil, in Iraq's semi-autonomous Kurdish region, at some point during the day, according to their spokesman, Halgurd Hekmat, who spoke to AP.
READ MORE: Between Kobani &Turkey: How unarmed Kurdish brigade guards restive border
Idriss Nassan, a Kurdish official from Kobani, would not, however, confirm to the agency whether they were to arrive.
"We have no information other than what we are reading on social media or hearing on the news," Nassan told AP.
Turkey is currently harboring some 200,000 refugees from the conflict in the region. However, it has still faced widespread criticism, saying that it is not doing enough to help the fight against IS militants.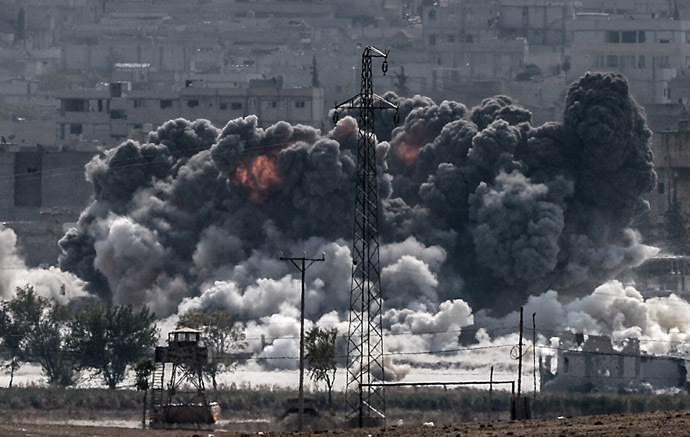 There have been widespread protests by Kurds across Europe against Turkey's stance, with London's Kurdish community staging mass protests since the end of September.
READ MORE: 'Shame on you, Turkey!' Massive protest in London demands protection for Kobani Kurds
Tens of thousands of protesters also took to the streets of Dusseldorf, Paris and London on October 11against IS.
A US-led coalition against IS has also been carrying out airstrikes, in which EU nations have been involved.