Right groups urge Bahrain to release Nabeel Rajab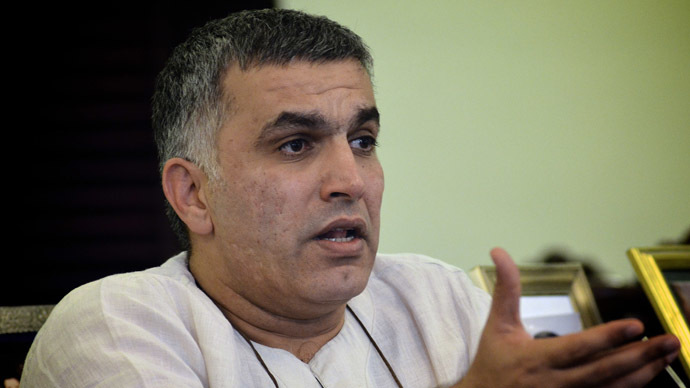 Human rights groups are urging Bahrain to drop all criminal charges against prominent human rights activists Nabeel Rajab and Zainab al-Khawaja and release them as the charges violate their right to free expression.
Human Rights Watch (HRW) and the Gulf Center for Human Rights issued their statements on Sunday also urging the Gulf kingdom to revoke all laws that violate freedom of speech, including those that criminalize any criticism of the monarch or state institutions.
Nabeel Rajab is facing a potential three-year jail sentence and is due in court on October 29 on charges that he has offended national institutions. Rajab is the president of the Bahrain Center for Human Rights as well as a member of the HRW advisory committee.
Another leading human rights activist Zainab al-Khawaja will stand trial on October 30 for insulting the King of Bahrain and could be hit with an even harsher sentence of up to seven years.
Rajab's first hearing was on October 19 where he faced charges for comments he made on social media, which violated article 216 Bahrain's penal code.
He allegedly criticized the government for using counter terrorism laws to silence human rights activists. Rajab also accused the Bahraini security forces of harboring violent beliefs akin to those of Islamic State (IS), saying that a former employee of Bahrain's interior minister had in fact joined IS.
The basis of the prosecution's case was that Rajab himself had acknowledged that he'd made the comments.
In July 2012 Rajab was sentenced to three years for organizing and taking part in three demonstrations between January and March of that year; he was released after serving two years in jail.
Al-Khawaja is facing six charges including attending illegal gatherings and insulting police officers. She has also been charged with ripping up a photo of Bahrain's King Hamad bin Isa Al Khalifa.
In April this year King Hamad ratified an amendment to the penal code, to enforce a seven year jail sentence and a 10,000 Bahraini Dinars ($26,500) fine for anyone who offends the King or desecrates the Bahraini flag or the national emblem.
On October 3, the UN's Office of the High Commission for Human Rights called for Rajab's immediate release and also stated that "the mere fact that forms of expression are considered to be insulting to a public figure is not sufficient to justify the imposition of penalties" and that "all public figures, including those exercising the highest political authority such as heads of state and government, are legitimately subject to criticism and political opposition."
Only the United States, which has its 5th fleet based in Bahrain, and Norway have spoken up and called on the Gulf State to drop the charges and release Rajab and Al-Khawaja. The only other two Western nations to say anything at all were France, which called for "clemency" in Rajab's case, and Ireland.
"These two courageous activists face years in jail for their peaceful criticism of a deeply repressive government, yet only the United States and Norway have made explicit calls for their release. A lot of influential governments that vociferously champion free speech elsewhere seem to have become shamefully coy where rights violations in Bahrain are concerned," said Joe Stork deputy Middle East and North Africa director for HRW.
The EU and the UK have said nothing.
"The silence of the UK, the EU, and others may result in Nabeel Rajab and Zainab al-Khawaja paying a further heavy cost for their activism," said Khalid Ibrahim, co-director of the Gulf Center for Human Rights.