Long-lost original of Caravaggio's iconic Mary Magdalene in Ecstasy 'found'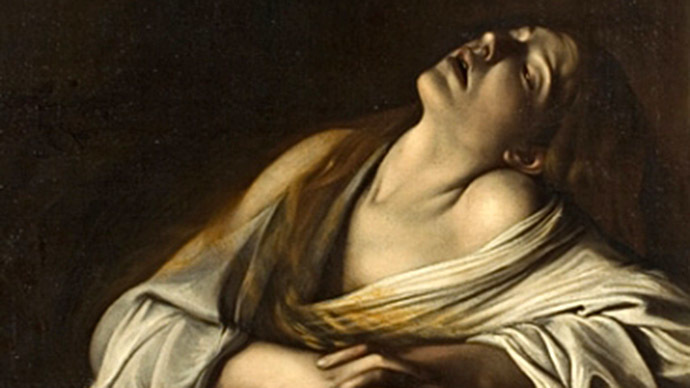 A prominent art historian has claimed she solved the mystery of the long-lost painting of the revolutionary Italian baroque painter Caravaggio's 'Mary Magdalene in Ecstasy' by identifying the previously unknown original, La Repubblica reported.
The president of the Roberto Longhi foundation of art history studies in Florence, Mina Gregori, a foremost expert on the life and work of Michelangelo Merisi da Caravaggio (1571 – 1610), said she is sure she has found the painter's original work in a private collection.
"The varying flesh tones of the body, the intensity of the face. The strong wrists and the blackened hands in wonderful variations of color and light and with a shadow obscuring half her fingers are the most interesting and intense aspects of the painting. It is Caravaggio," she told Italian daily La Repubblica.
"…I know a Caravaggio when I see one," she said.
Gregori added that she is basing her conclusion not only on the brushwork and distinctive Caravaggio colors but also on the documentation found on the back of the painting. The hand-written note attributes the artwork to Caravaggio pointing out its commissioner and the painter's patron Cardinale Scipione Borghese of Rome.
"This document definitively confirms the identification and attribution of the painting," she concluded.
The rebel painter is believed to have been with this work when he tragically died in the Tuscan town of Porto Ercole in 1610. There are numerous copies of the painting while the work from a private Roman collection was previously attributed to the painter and thought to be the original.
Caravaggio's naturalistic interpretation of Mary Magdalene as she experiences the divine presence of God had revolutionized traditional iconography, where Mary had been depicted ascending through clouds accompanied by angels. Caravaggio's Mary is believed to have influenced such artists as painter Peter Paul Rubens and sculptor Gian Lorenzo Bernini.