Rare footage captures Ebola discovery in 1976 (VIDEO)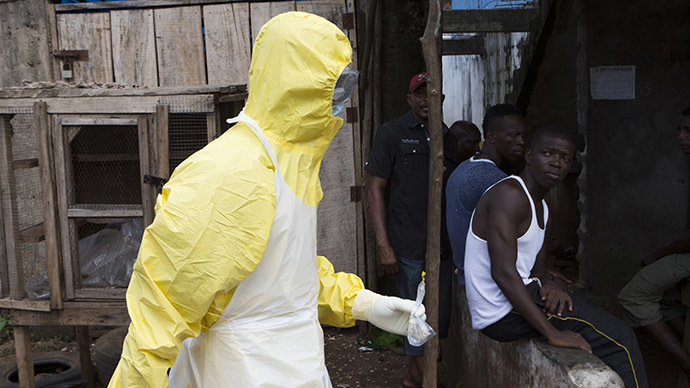 As the largest recorded Ebola epidemic in West Africa has infected over 10,000 people, a Belgian newspaper publishes rare footage from 1976 when the deadly virus was first identified in Congo, or in Zaire as it was then known.
The three videos were recently released by the Institute of Tropical Medicine and were published by the Belgian newspaper Het Laatste Nieuws on Tuesday.
In 1976, a group of researchers headed by Belgian scientist Peter Piot who travelled to the remote village of Yambuku in the Republic of Zaire (currently the Democratic Republic of Congo). The scientists went to Africa to study what they thought to be the Marburg virus – a hemorrhagic fever virus that was discovered a few years earlier.
However, what they found was a virus we know today as Ebola, which was named after the small river that flows near the Yambuku village.
The videos show how the researchers tending to the Ebola-infected residents wearing protective gear - gas masks and white suits - similar to the ones used today. The doctors would burn their clothing to prevent further spread of the disease.
"An epidemic of unknown origin and transmission…is really frightening. Then you ask, is this transmitted by mosquitoes, food, by water, by shaking hands, sex—the usual ways?," Dr. Piot said in an interview to The Wall Street Journal in October.
"The first known case, a 44-year-old male instructor at the Mission School, presented himself to the outpatient clinic at Yambuku Mission hospital on 26 August 1976 with a febrile illness thought to be malaria," according to the 1978 bulletin of the World Health Organization (WHO).
Following the man's death in September nine more cases occurred in the first week of the same month. During this outbreak 280 deaths out of 318 cases were recorded.
Since 1976 there have been several outbreaks of the deadly virus, with the largest epidemic currently ongoing in West Africa. According to the WHO, 10,141 cases of the Ebola virus have been registered through Thursday with 4,922 deaths from the disease.
READ MORE: Worst Ebola epidemic in history LIVE UPDATES
Eight countries have been affected, with Liberia, Guinea and Sierra Leone suffering the most. The virus is transmitted through blood or bodily fluids, according to the WHO. Persons infected with the Ebola may start showing symptoms - such as fever, sore throat, vomiting, diarrhea and internal and external bleeding - as soon as two days after contracting the virus.

READ MORE: 5 things about Ebola you should know

The average EVD case fatality rate in the current epidemic is around 50 percent, while case fatality rates have varied from 25 percent to 90 percent in past outbreaks, the WHO said.
You can share this story on social media: