Putin: Russian bear won't ask for permission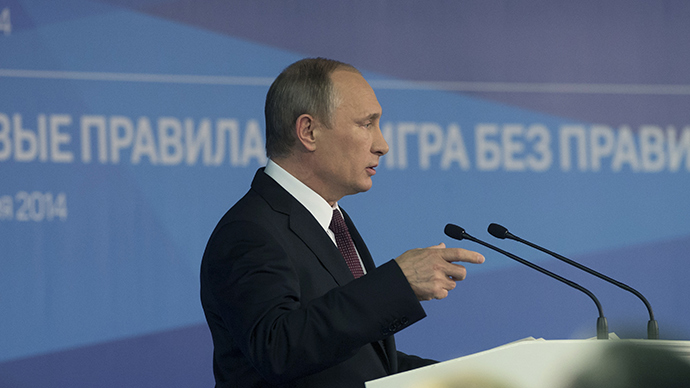 Vladimir Putin has voiced his disagreement with the West's position on Russia, which he likened to the Latin proverb "What is permissible for Jove is not permissible for an ox." However, he said "a bear" won't ask anyone for permission.
Stressing how different the international reaction to Kosovo and Crimea referendums was, the Russian president reminded of the proverb 'Quod licet Iovi, non licet bovi'.
"We cannot agree with such definitions," he said.
"Maybe it isn't permissible for an ox, but I have to say that a bear will not ask anyone for permission," Putin jested, adding that a bear is "the master of the taiga" and it will not give it up to anyone.
The Russian leader attended the Valdai Discussion Club in Sochi on Friday, where he touched on a wide range of topics – from Islamist militants in the Middle East to the state of the Russian economy.
Putin lashed out at the United States for destabilizing the world order of checks and balances for its own gains. He also accused the West of inflaming the situation in Ukraine and said Russia was not interested in empire-building.
READ MORE:Putin lashes out at US, West for destabilizing world
You can share this story on social media: