'Hidden death penalty:' Pope Francis calls for end to life sentences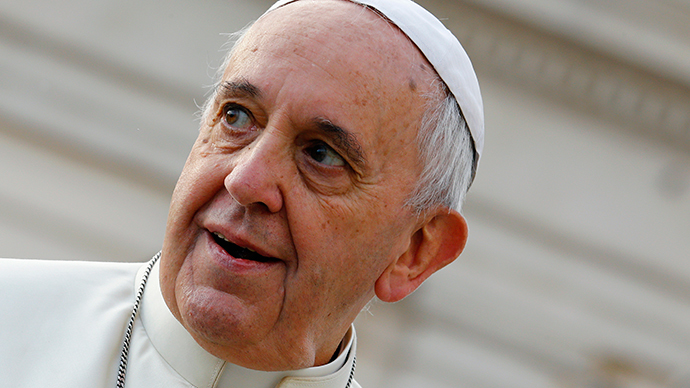 Pope Francis has renewed the Catholic Church's call to eliminate the death penalty, going one step further to blast life sentences and urge countries to prohibit the practice of transferring prisoners to torture centers.
Speaking to the International Association of Penal Law, Pope Francis called on countries to improve prison conditions, but also condemned the use of extraordinary rendition, in which individuals from one country are detained and transferred to another. Oftentimes, detainees are held in secret prisons and could be subjected to torture.
This practice was infamously employed by the CIA in the wake of the September 11 World Trade Center attacks, with the help of key allies. Francis also criticized those who helped facilitate the practice.
"These abuses will only stop if the international community firmly commits to recognizing … the principle of placing human dignity above all else," he said.
The Pope added that people should continue the fight to end capital punishment.
"All Christians and men of good faith are therefore called upon today to fight, not only for the abolition of the death penalty – whether it is legal or illegal and in all its forms – but also to improve the conditions of incarceration to ensure that the human dignity of those deprived of their freedom is respected."
Francis went on say that sentencing individuals to life in prison wasn't any better, calling such penalties "a hidden death penalty."
While his comments repeated well-established principles of the Catholic Church, the death penalty has generally received majority support in the United States. A new Gallup poll released Thursday showed that 63 percent of Americans support the sentence for people who are convicted of murder. While that is three points higher than it was in 2013, it is generally consistent with Americans' view on the practice since 2008. Still, last year's 60 percent support for execution was the lowest recorded in the US since 1972.
Finally, Francis questioned the practice of using prison time to punish children and others, saying jail cannot be a prescription for society's problems.
"In recent decades a belief has spread that through public punishment the most diverse social problems can be resolved, as if different diseases could all be cured by the same medicine," he said.
You can share this story on social media: