Putin meets Crown Prince of Abu Dhabi, reveals concerns over Iraq, Libya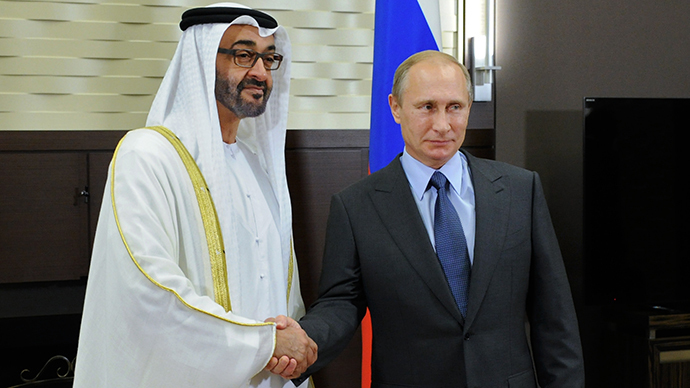 The situation in the Middle East remains complex, with events in Iraq and Libya raising the most concerns, Russian President, Vladimir Putin, said as he met with Crown Prince of Abu Dhabi in Sochi.
Putin said he welcomed the opportunity to discuss developments in the Middle East with General Sheikh Mohammed bin Zayed Al Nahyan, who occupies the position of Deputy Supreme Commander of the UAE Armed Forces.

According to the Russian president, the situation "remains complex, not only on Israeli-Palestinian track, but in other parts of the region as well. We are concerned by the state of things in Iraq and Libya."

For his part, Al Nahyan said that Moscow "plays a very important role in the Middle East."

Putin underlined the expanding investment cooperation between the two countries, adding that Russia "has great confidence in investment funds" from UAE.

The Crown Prince replied that he had no doubts that his country and Russia "are bound by a privileged relationship."

According to the Russian side, the trade between Russia and UAE has increased four times during the last five years, reaching the mark of $2.5 billion last year.

However, in the first half of 2014 the volume of trade decreased by 11.5 per cent to $ 1.3 billion.

UAE's accumulated investment into Russia in 2013 is estimated at $ 264 million, with another $48 million moving in the opposite direction.
You can share this story on social media: