First female UAE fighter pilot joins anti-ISIS mission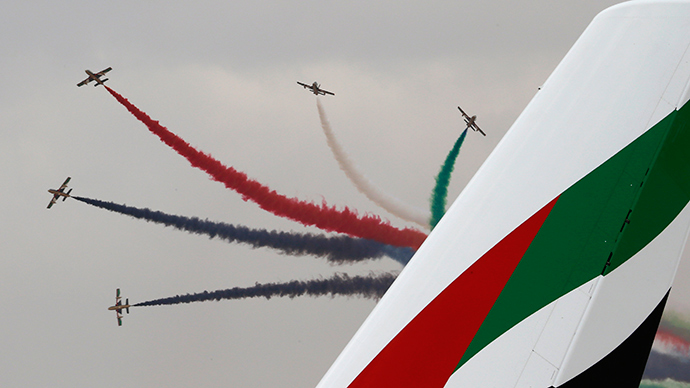 A female military pilot from the United Arab Emirates is not only leading her country's fight against ISIS in Syria, but also fighting off marriage proposals, after photos of the trailblazing flying ace went viral.
Major Mariam Al Mansouri, 35, is the first female fighter pilot from the United Arab Emirates.
She commands a squadron of F-16 jets which carried out attacks on Islamic State (IS, formerly ISIS) positions in Iraq and Syria.
Love that #UAE pilots who bombed #ISIS#Syria led by female commander. Maj Mariam Al Mansouri. #ladylibertypic.twitter.com/VJb49bOvds

— Jennifer Griffin (@JenGriffinFNC) September 24, 2014
Al Mansouri dreamt of being a pilot as a teenager, but only joined General Command in 2007, when top brass announced that female recruits can be accepted for training at the Khalifa bin Zayed Air College.
"It was my aspiration," Al Mansouri told the National of UAE media outlet. "Ever since I finished high school, I wanted to learn flying because it was something that I liked in the first place."
In May, major won the Pride of the Emirates Medal. She is said to be focused on "competing with herself" to improve her work, instead of trying to rival with her male colleagues, according to Deraa Al Watan magazine.
Captain Mariam Hassan Salem Al Mansouri, the first female fighter pilot in the #UAE#Airforce. pic.twitter.com/tlq1wCFkG9

— Ali R (@Baahirezaman) July 31, 2014
The aviatrix said she wasn't given any special attitude for being a woman, stressing that "everybody is required to have the same high level of combat competence."
Al Mansouri was born in Abu Dhabi, is one of eight children in the family, and has a degree in English literature.
Earlier this year, the Social Progress Index ranked the UAE as first in the world for treating women with respect and equality.
The US-led air strikes on IS positions in Syria began on Tuesday. On Wednesday, one strike on Syrian targets was recorded, with four more hitting alleged IS positions in Iraq. Dozens of IS forces and over 10 civilians were reportedly killed in the attacks.