Relics for rifles: Syrian rebels trade antique treasures for weapons (VIDEO)
Not only is Syria's future at stake as the civil war rages on, but now also its past. The black market flourishing in the conflict now sees relics - some as ancient as 1,200 years - traded by rebels for AK-47s.
Free Syrian Army (FSA) soldier Abu Mustafa, as he called himself, illegally crossed the Lebanese border with relics he looted on the outskirts of Damascus, following fighting there. The rebels usually come at night, when it's harder to catch them. Trading is done quickly and quietly.

Mustafa says he looted Syria's precious antiquities, some of which are several thousand years' old, to trade them for money. He plans to use it to buy weapons and armory to fight Syrian government forces.

"I brought them to buy weapons for the Syrian rebels. I am proud to help them," he tells RT's Maria Finoshina in a hushed voice.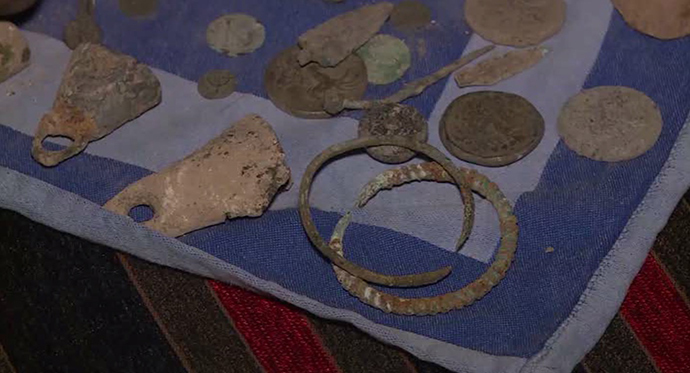 The rebel was planning to make nearly $3,000- $6,000 out of the relics - enough to return to Syria with a couple of Kalashnikovs, or even a rocket-propelled grenade (RPG), an anti-tank weapon system.

"I care about antiquities of my country. But there are priorities. We are forced to sell them to buy weapons. This is nothing to compare the sacrifices of the rebels and the country," he says.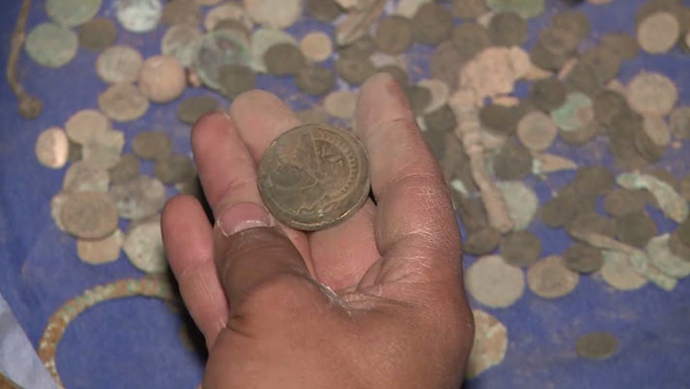 There are surely customers in this kind of venture. A man who asks to call him Abu Ghsein is an antiquity expert and a merchant, whose hobby is collecting antiquities. But the Syrian civil war, raging for its third year and so far claiming about 200,000 people, according to UN estimates, has changed his business.

"I receive everyday four of five people from the Free Syrian Army and Al-Nusra Front to sell the relics to help the Free Syrian Army," Abu Ghsein told RT.

His collection is now full of unique objects: gold, silver, bronze coins, stone - some of them dating back to the era of Phoenicia, an ancient Semitic civilization that lived 1,200-800 BC.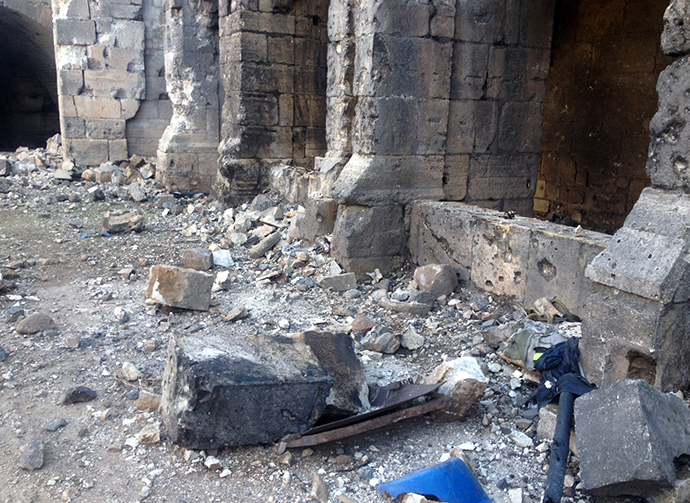 "I receive merchants from Turkey, from Jordan, from the UK, France and also some Syrian merchants. And todays these antiquities smuggled from Syria now form up to 50 percent of the European markets," he added.
Syria has six UN world heritage sites, including the capital, Damascus, and the ancient city of Aleppo, which were placed in 2013 on a UN list of endangered sites. Many treasures from Syria's museums and ancient cities are being looted and destroyed, mostly by rebels since the start of the civil war in 2011.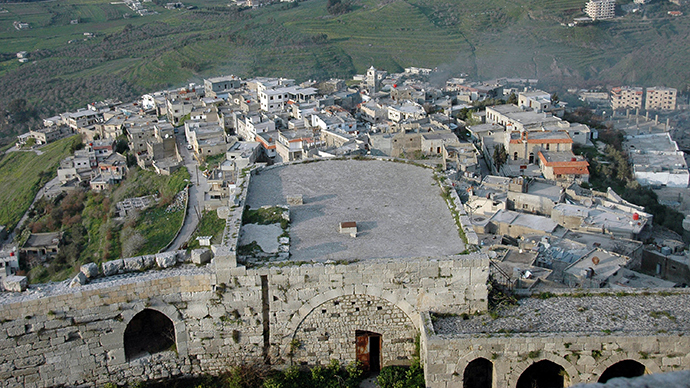 In September, more than 80 prominent scholars wrote an open letter to UN Security council, asking to ban the trade of Syrian antiquities.

"Our shared world heritage in Syria is being looted and turned into weapons of war. Ancient sites dating back to the very earliest moments of human civilization are being crudely dug up and sold to foreign collectors," the letter said.

They added that the ban should be made not only for the sake of the world heritage, but "to reduce the violence".
"Once the fighting stops, the people of Syria will need to reconnect with the symbols that unite them across religious and political lines. The country's ancient past will be key to this – protecting Syria's history is about safeguarding its future too," the scholars said.
You can share this story on social media: