Never mined: Italian worker plays hooky for 35 years, receives full pension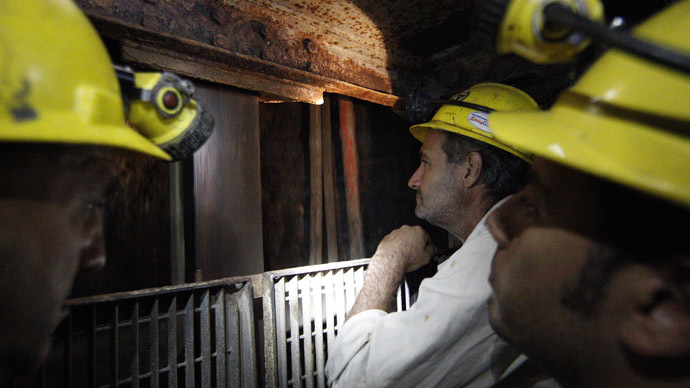 A jazz-loving Italian coal miner with an aversion to small spaces realized a simple solution to dodging the daily grind; call in sick until you can scoop up a full pension.
Coalminer Carlo Cani, 60, regaled the Italian daily La Nuvo Sardegna with the details of his 35-year-long adventure of absenteeism, which saw him use every trick under the sun to keep from going underground.
Hailing from the Sardinian city of Cagliari, Cani suffered from the worst possible condition for anyone in the mining business; claustrophobia. But rather than brave the depths day in and day out, (or find another job for that matter), Cani decided to it was better to game the system than change his profession.
"I invented everything – amnesia, pains, hemorrhoids, I used to stagger around as if I was drunk. I banged my thumb on a wall and obviously you can't work with a swollen thumb," he told the paper on Tuesday.
He also described how he would rub coal dust in his eyes to fake an infection, anything to avoid taking a trip down the tunnel. What's more, a sympathetic doctor helped him hoodwink his employers.
He also managed to milk Italy's generous labor system, which keeps works on the payroll even when companies are floundering economically. For example, when production at Carbosulcis, the mine he worked for, dropped, he volunteered to be "laid off" for reduced pay. For the next five years, he would go on to indulge his real passions, like playing at jazz festivals under the stage name Charlie Dog.
After 35 years of lying low, he retired in 2006 at the ripe old age of 52, receiving a full pension for his troubles.
"I reached the pensionable age while hardly ever working. I hated being underground," he told the daily. Saying his father was a "real miner", Carlo admitted he was simply cut from another cloth.
"I just didn't like the work – being a miner was not the job for me."
He also has "respect" for his fellow miners who broke their backs over the years to pull in a pension rather than take his slacker's path. He even recounted one day fateful day when he actually showed up to work, only to recover the body of a colleague of 28 years who had been crushed by a boulder.
Recounting the strangeness that he ever became a miner in the first place, he said that has stayed "printed in my mind."
The strange case of Carlo Cani has caused outrage in a country with an official unemployment rate of 12.3 percent. With four in 10 young people unable to find work, previous generations continue to benefit from a generous retirement system.
A similar case made waves in August, when a Sicilian doctor admitted to working just nine days in 15 years.