Australian teen ISIS adherent vows to fight US, UK until black flags fly over Buckingham Palace, White House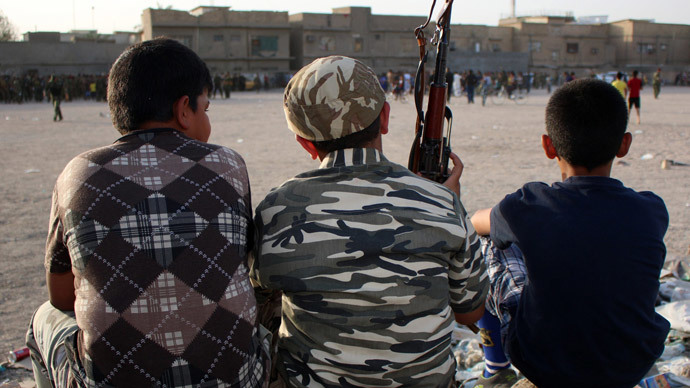 An Australian teenager has appeared in a video saying the Islamic State will keep fighting until there is an Islamic Caliphate established in Britain and the United States.
A new Islamic State (IS, formerly ISIS/ISIL) propaganda video purportedly shows Australian teen Abdullah Elmir standing in front of dozens of IS fighters, brandishing weapons and warning the UK and US that the militants will not give up.
"To the leaders, to [US President] Obama, to [Australian PM] Tony Abbott I say this: these weapons that we have, these soldiers, we will not stop fighting, we will not put down our weapons until we reach your lands, until we take the head of every tyrant, and until the black flag is flying high in every single land," says Elmir.
"Until we put the black flag on top of Buckingham Palace, until we put the black flag on top of the White House, we will not stop, and we will keep on fighting," he adds.
The video is the most recent entry in the 'Message from Mujahid' propaganda series released by IS.
Read More: British mother rescues wounded jihadi son from Turkish-Syrian border
Elmir is just 17 years old and comes from Australia. Telling his parents that he was going on a fishing trip, he left the country in June. He was accompanied by a 16-year-old boy, who flew with him to Turkey and then crossed the border into Syria to join IS, according to ABC News. The younger boy's father intercepted them and took him back to Sydney.
Would-be jihadist Elmir may have been "brainwashed," a family member told the Daily Telegraph. "I don't know what these kids get into," the unnamed relative said. "They don't know how to fight … they should be getting an education and building this country up."
What is putting the black flag on top the white house and Buckingham place gonna do? haa

— . (@amino___) October 22, 2014
Elmir is by no means alone as young IS sympathizer. Three American teenage girls from a Denver suburb stole $2,000 from their parents, skipped school on Friday and flew to Germany. The parents reported the girls missing when the school called to say one of the girls had failed to turn up at her class.
Authorities think the three might have been trying to join Islamic State fighters in Syria. They were arrested at Frankfurt Airport over the weekend by the FBI and returned to Colorado to be reunited with their parents, FBI spokeswoman Suzi Payne told the Associated Press.
Read More:Pregnant Austrian teen who ran off to join ISIS says she 'made a mistake'
A US official said the girls – two sisters, ages 17 and 15, and a 16-year-old friend – were headed toward Turkey en route to Syria. Investigators were reviewing evidence, including the girls' computers, in the hope that they would discover whether there were "like-minded" friends in their social circle, and whether they had any contacts in Syria.
The US Attorney's Office in Denver declined to comment on the case, and it is unclear whether the girls will face charges, according to the AP.
Read More:Dutch ISIS sympathizing schoolboy suspended for wanting to 'decapitate Jews'
Another Colorado teen, Shannon Conley, pleaded guilty to charges a month ago that she conspired to help militants in Syria. Conley was arrested in April as she boarded a flight she thought would take her to the Middle East. She told agents she wanted to marry a suitor she met online who said he was a Tunisian man fighting with IS in Syria. If Conley is found guilty, she could face five years in federal prison, and a fine of $250,000.
Australian Teenager's Warning: 'ISIS Flag Will Fly Over White House, Buckingham Palace' https://t.co/nuiJZy7fWw#ISISpic.twitter.com/ZJTiIwrWVI

— Jacob Michelson (@JacobCMichelson) October 21, 2014
You can share this story on social media: