​Naked protest artist cuts earlobe off on roof of psychiatric clinic
Published time: 20 Oct, 2014 15:38
Edited time: 20 Oct, 2014 18:11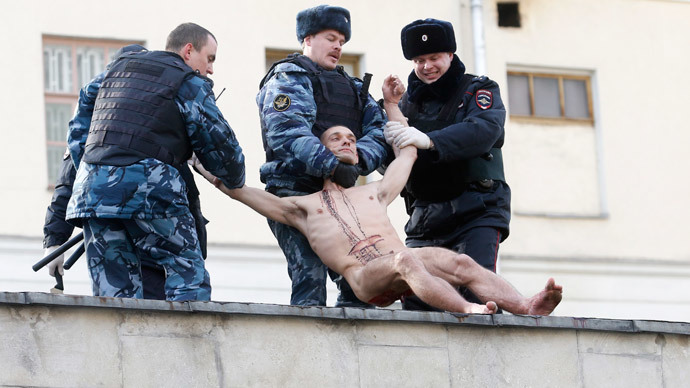 Pyotr Pavlensky, a controversial performance artist and activist best known for nailing his testicles to Red Square last year, hacked off a piece of his ear while naked on the roof of a psychiatric institute in Moscow.
On Sunday, as temperatures dipped below 0°C , Pavlensky sawed off his earlobe with a large kitchen knife while sitting naked on the roof of the Serbsky Center in Moscow, a state psychiatric hospital and institute for the study of forensic psychiatry. In a statement released to Russian media, Pavlensky said he was protesting the use of psychiatry for political purposes.
"The knife severs the earlobe from the body. The granite wall of the psychiatric institute separates the sane from the insane. The police give themselves the power to determine the threshold between reason and madness," Pavlensky explained.
A dozen witnesses watched as police arrived on the scene and removed Pavlensky from the roof. He was taken to Botkin hospital for treatment.
The artist's lawyer, Dmitry Dinze, described the protest to RSN, "He showed that psychiatry is being used to lock up and make fools of people who do not adhere to standard norms. That's what this is about."
Dinze told Rosbalt that Pavlensky has been declared mentally fit and healthy by doctors at the hospital despite earlier reports that he was being held on suspicion of pneumonia.
"Pavlensky has gone through all of the evaluations. There was both a physical and psychiatric evaluation. Pavlensky is completely healthy. He did not contract pneumonia during the protest. His release is currently being discussed," said Dinze. According Dinze, this is the sixth time, Pavlensky has been declared mentally sound after a psychiatric evaluation.
Pavlensky has a history of extreme protest art. In 2012, Pavlensky sewed his lips shut in support of the punk art collective Pussy Riot.
READ MORE:Artist sews his mouth for Pussy Riot
The following spring, his assistants brought him to the entrance of St. Petersburg's legislative assembly naked and wrapped in barbed wire.
Last November, in an act that drew international attention, Pavlensky nailed his testicles to a cobblestone in Red Square to protest "apathy, political indifference and fatalism in contemporary Russian society," as described by Pavlensky himself in a statement.
READ MORE:Shock artist nails his genitals to Red Square cobblestone in protest
The artist is currently under investigation for vandalism for organizing and participating in a protest supporting Euromaidan near the Church of the Savior on Blood in St. Petersburg in February.
During the protest, Pavlensky and others built an imitation barricade and set fire to tires as a sign of solidarity with the Maidan protesters in Kiev.