'Heinous crime': Japanese man gets 2-year jail term for making 3D guns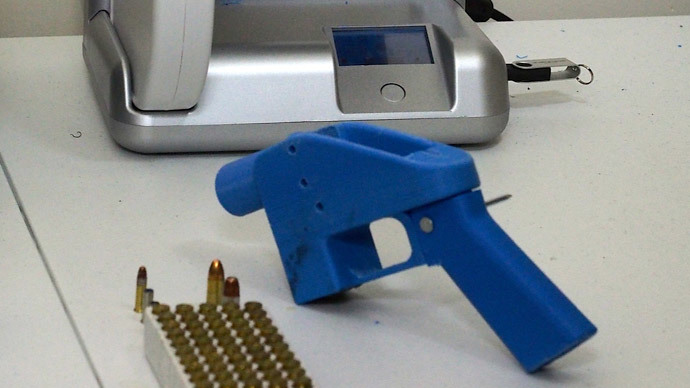 A Japanese man was imprisoned for two years after being found guilty of manufacturing guns with a 3D printer and attempting to 'emasculate' the country's strictly enforced gun laws.
Yoshitomo Imura, 28, was first arrested in May at his home in Kawasaki City, just outside Tokyo, where he was found in possession of six weapons, two of which could fire lethal bullets. He also had a 3D printer at home, but no ammunition for the guns.
On Monday, he was found guilty of creating two functional guns between September and December 2013, in violation of Japan's Swords and Firearms Control law.
Prosecutors had demanded a prison sentence of three-and-a-half years for Imura. He still has an opportunity to appeal the conviction.
Defense for Imura had claimed their client was unaware he was doing anything illegal, arguing that the guns were incapable of causing death or serious injury because an aluminum plate had been inserted into the barrels to stop them from being fired, Japan's Asahi Shimbun daily reports.
The court was not swayed by the argument, saying the plates could be removed with minimal effort, quickly restoring them to their lethal capacity.
Imura, who had once allegedly written "Freedom of armaments to all people!!" and "A gun makes power equal!!" on a YouTube video description, was further accused of attempting to "emasculate" Japan's strict gun control system.
"He intended to demonstrate that firearms could be manufactured easily and publicized that fact widely over the internet. There was an extremely high imitativeness to his acts, which were heinous," Asahi Shimbun cites Judge Koji Inaba, who presided over the case for the Yokohama District Court, as saying.
Inaba said the criminal responsibility of the offense was "serious," warning it could prompt others to follow in Imura's footsteps.
He added that Imura's act had turned Japan's strict gun control regulations into a mere "facade."
Imura, a former employee at the Shonan Institute of Technology, appears to have done more than just create guns downloaded from the internet. He also reportedly designed several of his own.
In one video post to YouTube, a man reported to be Imura can be seen firing the gun in a wooded area, reportedly with blanks.
Reposts of a design video allegedly made by Imura show his so-called ZigZag revolver, which has a capacity of six bullets – a massive step up over previous iterations of single-shot printed guns.
The ZigZag, named after its ratcheted barrel modeled on the German Mauser Zig-Zag, was capable of firing .38 caliber slugs. In the video, he assembled the handgun with plastic 3-D printed pieces, a few metal pins, screws and rubber bands.
In Japan, citizens can only possess firearms for hunting and sport shooting after they have submitted to a lengthy licensing procedure. As a result, few citizens ever come into contact with guns.
According to statistics from Japan's National Police Agency, nationwide there were only 153 firearms related crimes in 2012. In total, Handguns were used in the commission of 14 homicides and 40 robberies.
You can share this story on social media: