Beating Ebola: Spanish nurse appears to be healed from deadly virus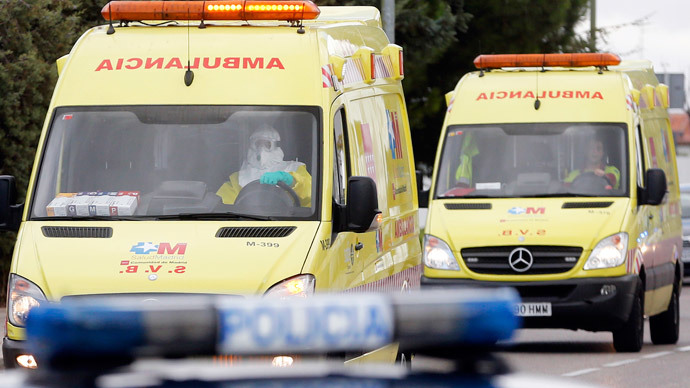 The Spanish nurse who contracted the Ebola virus while treating infected patients at a Madrid hospital has seemingly beaten the disease following a complex treatment, the country's government said.
READ MORE: Ebola in Spain: 4 people including nurse hospitalized in Madrid
Teresa Romero, 44, was the first person to become infected with Ebola outside of West Africa earlier in October. She was hospitalized with a high fever and moved to an isolation unit at a hospital in central Madrid.
New tests revealed a negative result for the virus, according to a statement released by the Spanish government on Sunday.
The patient's treatments included a drip of human serum with antibodies from Ebola sufferers who had survived the disease, as well as other drugs which were not named.
One of the unnamed drugs was reportedly the experimental anti-viral medicine favipiravir, El Mundo newspaper reported.
Before being given the all-clear, Romero needs to pass another test within 72 hours. That test will be administered shortly, according to the statement.
Meanwhile, 15 people – including Romero's husband – are being monitored in the Madrid hospital after coming into contact with Romero.
READ MORE: Spain kills Ebola victim's dog Excalibur - sparks #SaveExcalibur Twitter storm
The virus has killed over 4,500 people this year in Liberia, Sierra Leone, and Guinea, according to World Health Organization figures released on Friday.
The Spanish government has authorized the US to use military bases to send up to 4,000 troops to West Africa to help contain the virus.
Spain is set to approve the use of Rota military base, located near Cadiz, and Moron de la Frontera military base, located near Seville, the Ministry of Defense said on Saturday.
On Sunday, Washington announced improvements to its domestic policies to deal with Ebola. The government will create a 30-member medical support team to help civilian medical professionals and provide domestic emergency support for the US Ebola response.
The team will be made up five doctors, 20 nurses, and five trainers who will deploy at short notice, according to a Pentagon spokesman. It will not be deployed overseas.