Winter surfing, Russian style: Daredevils conquer Russia's Pacific coast (VIDEO, PHOTOS)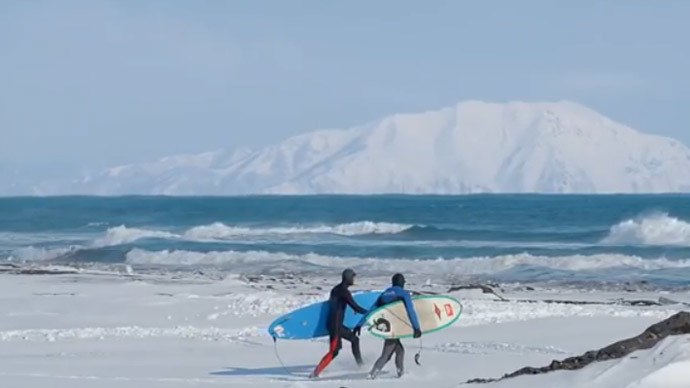 Freezing winter temperatures, snow-covered shores, and icy-cold waters have not stopped three surfers from conquering the waves of Russia's Pacific coast. The documentary 'Surf in Siberia' proves that anything is possible with the right amount of passion.
The first episode of the series about three Russian surfers was shot in Kamchatka – a peninsula in Russia's Far East between the Pacific Ocean and the Sea of Okhotsk.
Kamchatka is covered with snow and ice from October to late May, due to freezing arctic winds and a cold sea current.
Despite biting frost, the three surfers make riding the icy waves of the Pacific seem like a walk in the park.
"A lot of ice, really cold, strong wind. I was really shocked," said one of the documentary makers. "There are a few places in the world where you can do such things."
Unlike tropical Indonesia, Hawaii, or sunny California, Kamchatka is not considered to be a surfing destination. Yet the three Russian daredevils have dubbed it a "word-class surfing" spot.
"It felt like we were on the Moon" said one of the surfers.