​Turkish Airlines conducts probe after panic over Arabic inscriptions on engines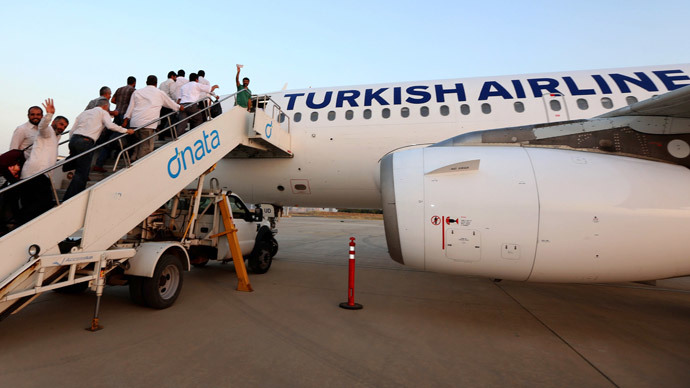 Turkish Airlines was forced to examine apparently random Arabic scripts found on the engines of several of its planes over the weekend, prompting fears that Islamic State militants had been defacing the jets.
However, what people initially suspected to be disturbing propaganda messages courtesy of the Islamic State (IS, formerly ISIS/ISIL) were actually blessings for abundance and fertility.

Staff, unable to read the inscriptions, feared that IS may have been responsible, according to the Turkish website, airporthaber.com.

After one jet was found with the markings at Istanbul's Atatürk Airport – Europe's fifth busiest airport – three further planes were discovered to have similar markings – all of which had arrived from different starting points.

A spokesman for Turkish Airlines told Reuters on Wednesday that there had been no need for concern – at least, over the nature of the markings. Their very existence has, however, generally raised questions about security.

"An investigation has been launched into this issue. We don't think there is a link with a terror organization, nor was there a threat to our flights," the spokesman stated.

However, the people responsible have not been identified because of a lack of functioning security cameras operating in the areas where the planes were stationed.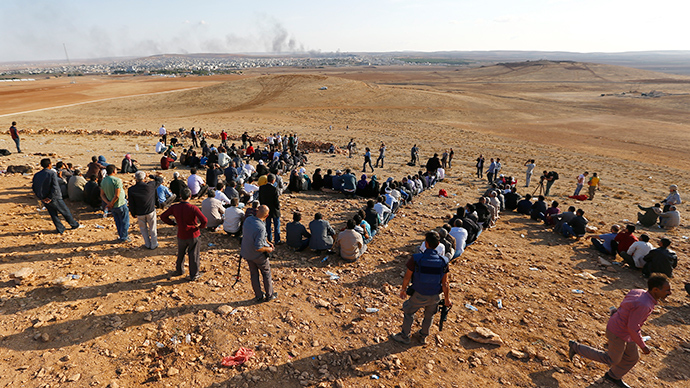 Fears spiked amid a siege by IS fighters on the northern Syrian town of Kobani, which is just over the border from Turkey.

Turkey is especially vulnerable to IS plots because of its geographical vicinity to the conflict, and "foreign fighters" have been going via Istanbul to reach Syrian and Iraqi hotbeds of insurgency.

It is currently located right next to one of the major cities in the conflict, and on October 10 the Syrian Observatory for Human Rights stated:

"They have taken at least 40 percent (of the town)," according to the head of the monitoring group, Rami Abdulrahman, who spoke to Reuters.

IS militants have seized control over some of its eastern areas and smaller areas in the south.

The group has captured territories in both countries and last Saturday protests swept through several predominantly Kurdish cities in Turkey because of a perceived lack of action from the Turkish government in handling the IS problem.

However, the protests have not just been confined to Turkey and an increased fear of terrorism has swept the continent.
Tens of thousands of protesters took to the streets of Dusseldorf, Paris and London last Saturday to call for greater action to protect the Syrian border town.