100s of Ukraine soldiers protest in front of presidential administration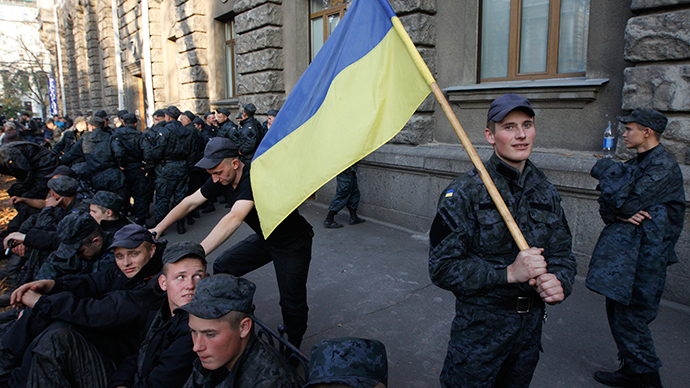 Ukrainian National Guard troops are protesting outside the presidential administration office in Kiev as they demand demobilization. They are refusing to return to their barracks outside the capital.
About 200 soldiers have surrounded the building claiming they have served six months longer than their contracts stipulated.
Soldiers are chanting, "Demobilization!" and, "All for one and one for all."
They say they are not going to leave until authorities answer their questions, key amongst them being when they will be able to return home.
Members of the presidential administration, however, have demanded that the soldiers immediately return to their military barracks.
"Soldiers, come on, return to [your] military units, we'll figure this out there," one of the officials told the protesters, according to TASS.
They have demanded that they either receive better pay or are allowed to return home. One of the soldiers told that they were paid roughly $11 per month, adding that there has been no hike in wages since their contracts expired.
"I have served for over half a year. Who are we: conscripts or [professional soldiers]? Then why are we still being paid $11.5 per month? Show us a document saying that we can be kept any longer," the soldier told TASS.
"We have already served for almost two years and we don't know how many more years we'll have to serve: three, four?", a soldier has told reporters at the scene.
Mothers of the protesting soldiers say their sons' rights have been violated, with demands addressed to regimental headquarters thus far being ignored.
Soldiers in Kharkov have also taken to the streets to make their demands heard.
"We were recruited for 12 months in the spring of 2013 from different regions of Ukraine. Now 18 months have passed and there are no signs of demobilization," one of the protesters in Kharkov told reporters.
Last week President Poroshenko said that demobilization is currently not possible.
"There are currently no possibilities for demobilization under conditions of de-facto military actions," the President said during his visit to Kharkov on Saturday.
Poroshenko said that it will be possible "to begin steps of demobilization" only when "there will be a constant ceasefire, when a line of defense is built, as soon as our teams, and this should be soon, will be deployed in full combat defensive order."
The National Guard was reestablished in March 2014. The first National Guard's regular battalion was formally sworn in for service on April 6 following three weeks of training.
You can share this story on social media: