​Suspected Ebola carrier wrapped in plastic after Czech police seal off rail station (VIDEO)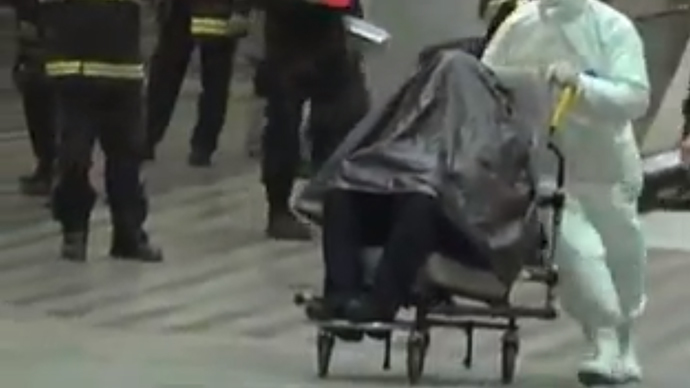 Czech police and hazmat suit-wearing doctors have seized a traveler from Ghana at Prague's main railway station. The man, suspected of suffering from the Ebola virus, was wrapped in black plastic by the authorities and taken away.
The police dispatched some 15 officers from the capital's rapid response squad to cordon off the station's lobby, iDNES.cz news website reported. The operation didn't interrupt the normal operation of the railway station, but probably scared passengers who were in the vicinity.
Footage from the scene showed a man wearing biohazard suit pushing a luggage cart with a person sitting on it almost completely covered by black plastic.
The target of the police operation was a student from Ghana, who arrived in Prague earlier Saturday evening. He managed to get through medical screening at the airport and was caught later at the railway station.
"We took emergency measures after receiving a report that there was a man from Ghana at the station possibly carrying Ebola," Prague police spokesperson Andrea Zoulová said.
The health ministry later reported that the student only had a cold. Ghana has not reported any Ebola cases confirmed so far, while the worst-hit countries are Liberia, Sierra Leone and Guinea. Ghana is where the UN mission to combat the outbreak is located.
The Czech Republic is among the countries maintaining strict precautionary measures over possible carriers of the deadly Ebola virus arriving from Africa. Just a day before the railway station incident a woman from Nigeria was taken to hospital after falling ill at the Karlovy Vary spa resort.
Samples taken from her were sent to a German lab to check whether she had the virus Ebola or another ailment.
The threat of Ebola has sparked fear and paranoia among many people in countries outside of Africa, with calls to halt airline traffic with places affected by the epidemic.
You can share this story on social media: