Turkey allows US to use its bases for anti-ISIS operations - officials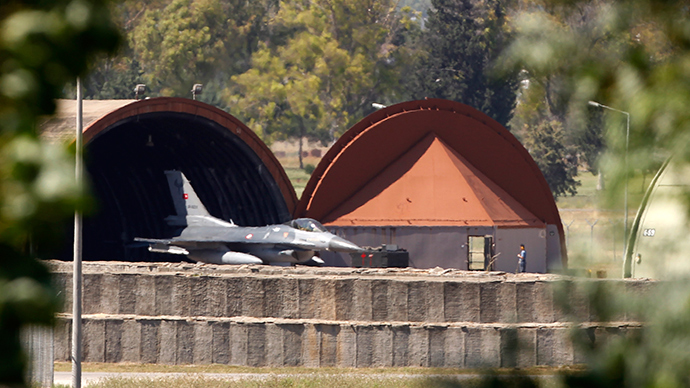 Turkey's authorities have allowed the US to use its airbases in the fight against Islamic State militants in Iraq and Syria, said US officials , adding that Washington can also use a key Turkish installation near the Syrian border.
"Details of usage are still being worked out," the US official told AFP on condition of anonymity.
Turkey has come under increased pressure from the US and its coalition partners in the fight against IS (also known as ISIS, or ISIL) to help combat the jihadist militia.
US military units have long been stationed in southern Turkey's Incirlik Air Base, 8 kilometers east of Adana, the fifth-largest city in the country. At least 1,500 US airmen operate out of the base.
Now Ankara agreed that it will provide its bases, including Incirlik Air Base, to the US-led coalition against Islamic State, the officials said on condition of anonymity as they had no authorization to discuss private negotiation between the US and Turkish officials, AP reported.
US Defense Secretary Chuck Hagel held a telephone call with his Turkish counterpart Ismet Yilmaz. He thanked Ankara for its "willingness to contribute to coalition efforts, to include hosting and conducting training for Syrian opposition members," Rear Admiral John Kirby, the chief spokesman for the Department of Defense, said.
Hagel "noted Turkey's expertise in this area and the responsible manner in which Turkey is handling the other challenges this struggle has placed upon the country, in terms of refugees and border security," Kirby added.
During the telephone call, Yilmaz agreed that Turkey could also host the US Central Command-European Command planning team, scheduled next week to "further develop a training regimen," Hagel's spokesman said.
"Both leaders stressed the need to continue taking a comprehensive, strategic approach to the threat posed by ISIL and other extremist groups."
However, sources close to the Turkish authorities told Reuters that Ankara has not reached any agreement with the US to use its Incirlik Air Base in the fight against Islamic State militants.
But Turkey agreed with the US to train Syrian rebels to combat the militants, the sources added.
Turkey hasn't officially joined the US-led anti-IS alliance, despite pressure from the US and the UK for Ankara to play a larger role in military operations.
UK urges Turkey to join military alliance against ISIS
Internationally, focus has turned to the majority Kurdish town of Kobani in northern Syria, on the Turkish border, where Kurdish peshmerga forces have been losing ground against IS militants following a September 16 surge to take the city. More than 550 people have been killed since the siege began, with IS militants controlling just over a third of the town.
In the meantime, Claudia Roth, deputy speaker of the German parliament, said Sunday that NATO must force Ankara to stop supporting IS, reported Rudaw Media Network, a Kurdish media group in Erbil in Iraq's Kurdistan.
"What we have learned is that [the country's President Recep Tayyip] Erdogan wouldn't mind if Kurds were weakened and then annihilated," she said, adding that Erdogan's "dealings with the IS are unacceptable. I could not believe that Turkey harbors an IS militant camp in Istanbul."
Turkish authorities have denied any dealings with the IS militants.
You can share this story on social media: