Ukrainian Defense Minister resigns, Poroshenko to announce another candidate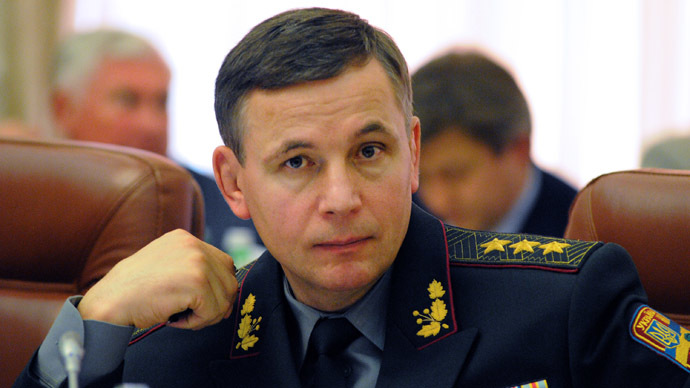 Ukrainian Defense Minister Valery Geletey has officially stepped down with President Petro Poroshenko accepting his resignation. The Ukrainian leader is expected to announce a candidate for a new Defense Minister on Monday.
Poroshenko hopes the country's Parliament, the Verkhovna Rada, will support the candidacy he will propose and a new Defense Minister will be appointed as soon as on Tuesday, Oct.14, a statement on the Presidential official website said.
"I am sure that there will be no delays with the voting for a new Minister. I expect this will happen on Tuesday," Poroshenko said.
The Ukrainian president stressed that it was time "to change the military leadership."
Valery Geletey, who has served as the country's Defense Minister since July 3, 2014, filed a resignation report back on Friday.
He has recently faced harsh criticism over Kiev's anti-terrorist operation failures in south-east Ukraine, particularly in Donetsk and Lugansk regions.
Earlier in August, hundreds of protesters in Kiev, many of whom were mothers and wives of the soldiers involved in the fighting in Donetsk and Lugansk, demanded Geletey's resignation.
As a Defense Minister he has also been part of several scandals.
Geletey threatened to file a law suit against Yulia Timoshenko, who accused him in selling weapons to militants in Donetsk and Lugansk.
In September, he also accused Russia of using tactical nuclear weapons against Kiev army fighters. This sparked sarcastic comments from Moscow and criticism from the rival Ukrainian Interior Ministry.
READ MORE: 'They'll ridicule us': Ukraine defense minister 'claims' Russia used nukes
The Ukrainian general himself later denied the nuclear allegations, saying that the journalist had misinterpreted his words.
In early October, Russia's top Investigative Agency launched a criminal case against Geletey over murder accusations, the use of prohibited means and methods of warfare and genocide.
You can share this story on social media: