What was that?! New Ukrainian Def Min 'signs' his oath… with capped pen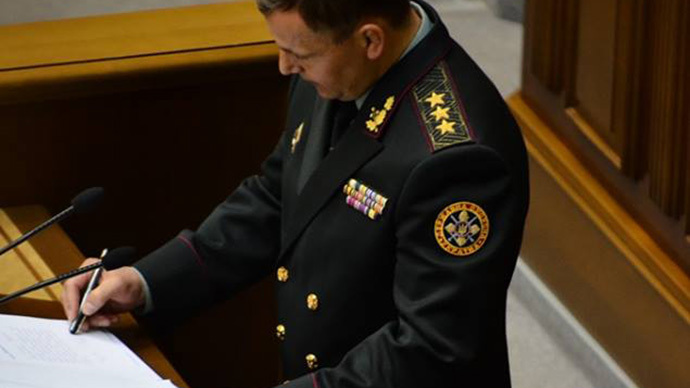 Ukraine's newly appointed defense minister was so fast to sign his oath of allegiance that even the capped pen in his hand failed to slow him down.
The candidacy of Lieutenant-General Valery Geletey, which was proposed by Ukrainian President Petro Poroshenko, received support from the majority of the MPs in the country's parliament, the Verkhovna Rada, on Thursday.

He got 260 votes from the deputies, above the minimum of 226 votes required to be accepted for the job.

Geletey came up on stage and read out the text of the oath of allegiance as the new defense minister.

He then signed the document with one swift flourish, accompanied by applause from the parliamentarians.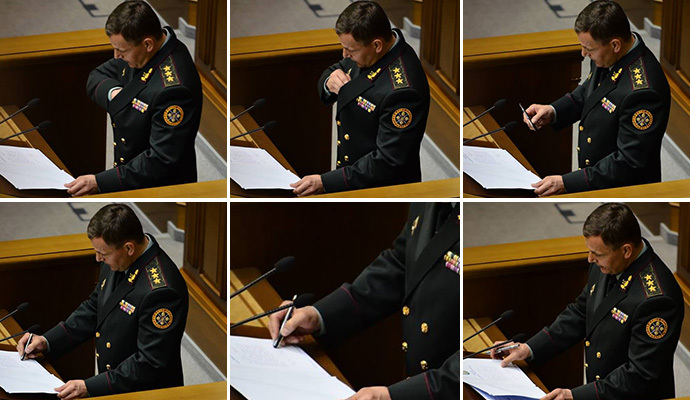 The video footage showed nothing suspicious as Geletey's hands were hidden by the rostrum.
However, photos made by correspondents from another angle revealed that the pen he used was capped.

After the oath, Geletey addressed the parliament with a speech promising to "ensure peace and order" and "restore the sovereignty and territorial integrity" of Ukraine.
"I'm confident that Ukraine will prevail and, believe me, there'll be a victory parade in the Ukrainian city of Sevastopol," he declared.
This March, the city of Sevastopol and the Republic of Crimea cut ties with Ukraine and reunited with Russia.
Before becoming defense minister, Geletey occupied the position of head of the State Guard of Ukraine, to which he was appointed in March by the Maidan government.
The Ukrainian military is currently involved in a self-styled "anti-terrorist operation" in the southeastern regions of the country, which have refused to live under the new Kiev authorities.
At least 200 people have been killed and another 600 injured in military action in Ukraine's Donetsk and Lugansk regions. The number of Ukrainian refugees who are fleeing to Russia from the violence has reached 110,000 people, while 54,400 others have been internally displaced, the UN's refugee agency has said.
You can share this story on social media: