Scientists in Russia developing three Ebola vaccines – Health Ministry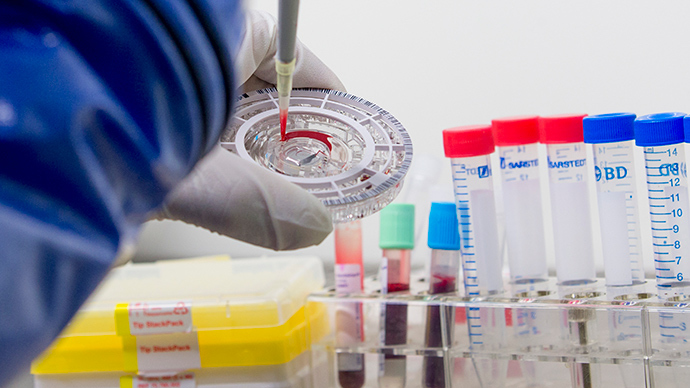 Russian scientists are working on three potential Ebola vaccines which they expect to introduce as soon as in the next six months. One of the vaccines is "already ready for clinical trials," Russia's health minister Veronika Skvortsova has announced.
"We have created three vaccines," Skvortsova announced in an interview with Rossiya-1 TV. "One vaccine is based on a strain of Ebola, and the other two have been created by means of genetic engineering."
Russian virologists have also created an anti-virus drug that, they believe, could be successfully used for treating Ebola as tests have showed that that it is effective in curing Ebola-related diseases.
So far, there is now no licensed treatment or vaccine for the highly contagious disease that has killed over 4,000 people in western Africa since the start of the year and has recently started spreading beyond the region.
Ebola: Evolution of an epidemic (INTERACTIVE MAP)
Now several countries are trying to develop an effective treatment.
The first-ever human trials for an Ebola vaccine started in Mali earlier this week. On October 8, the first health worker received the drug. Over the course of the trial, which is being organized by the University of Maryland and Mali's Health Ministry, a total of 40 volunteers will be given the vaccine.
In Russia it's impossible to contract the Ebola virus, Skvortsova said, adding that the country has still implemented a protection plan against the virus, which it stepped up in July.
"We are now carrying out a sanitary inspection of 7,500 flights per month, which is almost half a million people," she said. "Everybody coming from West Africa is under special control, especially 450 students who study in Russian universities. Sixteen of them had viral illnesses and were hospitalized, but they were not relevant to the [virus]."
Skvortsova said that 71 of Russia's airports have upgraded their security and now have thermal cameras to detect the first signs of the virus.
"Both portable and stationary thermal scanners are being used at many airports, and we are monitoring all direct and indirect flights that arrive," she said.
Texas health care worker tests positive for Ebola
As of Oct. 8, a total 4,033 people have died, out of a total of 8,399 registered cases in seven countries, the World Health Organization (WHO) said. For now, Liberia is the worst-hit of all the affected countries, with 4,076 cases and 2,316 deaths. It is followed by Sierra Leone, where there are 2,950 cases and 930 deaths.
Despite all international efforts to combat the disease, the WHO said that Ebola's spread is "entrenched" and "accelerating."
"The disease is entrenched in the [countries'] capitals, 70 percent of the people affected are definitely dying from this disease, and it is accelerating in almost all of the settings," WHO deputy head Bruce Aylward said on Friday.
You can share this story on social media: