​'Come to the Dark Side': Would-be MP Darth Vader strikes imperial tune for Ukraine elections (VIDEO)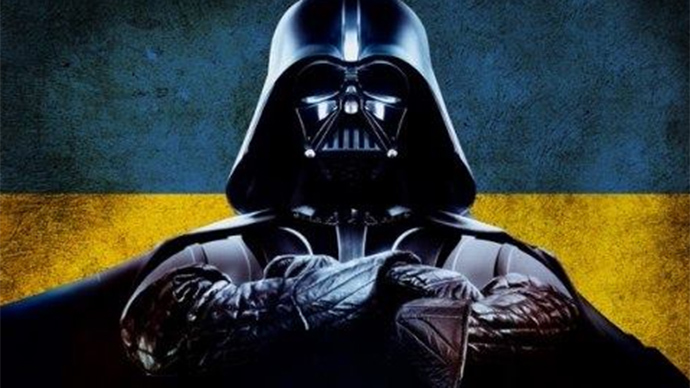 Ukrainian politician Sith Lord Darth Vader, who is running to become a member of parliament, is appealing to his voters in style – first getting a Ukrainian haircut and then picking an imperial tune on his bandura.
The voting is set to take place on October 26, and Vader is one of several colorful characters representing the Internet Party of Ukraine with an ambition to take seats in the new Rada.
A veteran of amusing if provocative political performances, the politician is featured in several ads apparently aimed at going viral among Ukrainians.
The most popular scored over 500,000 views on YouTube since its release Tuesday shows Vader removing his iconic helmet and mask – but not showing his face. Instead only the rear of his head is shown, withholding the Sith's identity, but convenient to proudly demonstrate the traditional Ukrainian Cossack haircut, the Chupryna.
Another video shows Vader playing the bandura, a lute-like Ukrainian fold instrument, to the tune of the Imperial March, and declaring: "Don't let them eat our salo!" referring to traditional Ukrainian salted pork fat.
In yet another, half a dozen characters from the Star Wars franchise profess their love for Ukrainian culture and history by hugging monuments in Ukraine's Zaporozhye region.
The gallery of recognizable images is already prominent across Ukraine on billboards showcasing tongue-in-cheek advertising. For instance, "candidate Stepan Chewbacca" calls for "hitting the furry paw of corruption".
Darth Vader (the Internet Party's deputy leader had his legal name changed to stay true to the image) has been an odd figure in the Ukrainian political landscape for a few years now. His first apparently directed video was released in May, when he ran for the position of Kiev's mayor and showed what was called an assassination attempt. Vader is shown beating off a bunch of Jedi warriors on his way home from a grocery store.
Critics have said Vader and his party mock Ukraine's politics. Those favoring his message say it's rather a good commentary and a legit way to grab public attention.