Global Frackdown day: World unites to protect environment & health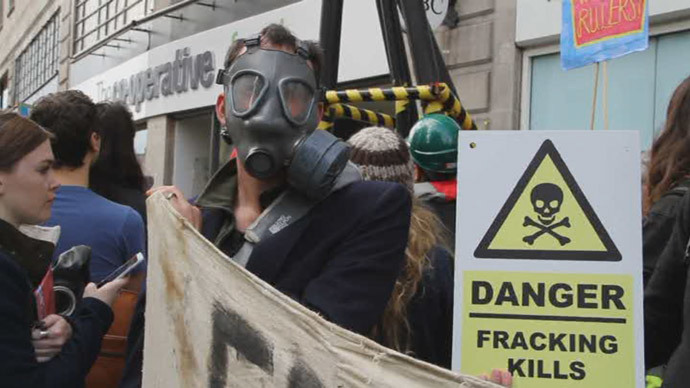 ​Marching across the world to inspire actions on the ecological crisis, thousands of anti-fracking activists in over a dozen countries united against what they call dirty energy technology, which contaminates groundwater and causes health problems.
Over 250 events across all continents are taking place as part of the Global Frackdown day, organized to target fracking, a technique used to extract hydrocarbons by pumping pressurized chemicals underground.
Today is #GlobalFrackdown. Ban all new dirty #energy projects! http://t.co/JV1Om6MJF5#ReclaimPowerpic.twitter.com/9dcqu7FNbE

— Friends of the Earth (@FoEint) October 11, 2014
Organized by Food & Water Watch in coalition with hundreds of groups worldwide, activists mobilized all forces in an effort to protect air, water, climate and communities from fracking. Ahead of the international action day, the environmentalist coalition sent a letter urging the United Nations Secretary General, Ban Ki-moon, to reject fracking as a part of the Sustainable Energy for All Initiative.
North Lancs Friends of the Earth & Lancaster @38_degrees in Lancaster for #GlobalFrackdown#FrackFreeLancashirepic.twitter.com/Dnna86C534

— Friends of the Earth (@wwwfoecouk) October 11, 2014
"Mounting scientific evidence shows that fracking is not only inherently unsafe for both public health and ecosystems, but that fracking may actually drive global warming more than conventional fossil fuels due to methane leakage from oil and gas drilling operations and their attendant infrastructure," the letter reads.
'Protect our water. Don't drill where we drink' in Butler, Pa #GlobalFrackDownpic.twitter.com/lfeqMpylmW

— John Rubino (@heyrubino) October 11, 2014
Activists remain convinced that well-documented scientific evidence proves that fracking contaminates water, pollutes air, threatens health, causes earthquakes, and harms local economies.
READ MORE:California aquifers contaminated with billions of gallons of fracking wastewater
Finally made it to Parliament Square. #GlobalFrackdownpic.twitter.com/1ipmfFxOsG

— Frack Off London (@FrackOffLondon) October 11, 2014
"Across the globe a powerful movement is emerging that rejects policies incentivizing fracked natural gas as a bridge fuel to a sustainable future. Any initiative claiming to promote sustainable energy for all must stimulate energy efficiency and renewable energy programs, not foster fracking for oil and gas," said Food & Water Watch Executive Director, Wenonah Hauter.
"The hundreds of Global Frackdown events mark the growing consensus that fracking should be banned and that the United Nations should be on the forefront of pushing for truly sustainable energy solutions."
Don't #frack the Shawnee! #GlobalFrackdown in Illinois pic.twitter.com/ERRw92F9Xl

— Food & Water Watch (@foodandwater) October 11, 2014
From Bulgaria and Lithuania to United Kingdom and California, people are holding a common front by gathering more and more people each year.
En Madrid, miles de personas salen a la calle en el día de acción contra el TTIP y el fracking. #NoalTTIP#TTIPpic.twitter.com/uwRCpFeecu

— DIAGONAL Periódico (@El_Diagonal) October 11, 2014
"This is the 3rd Global Frackdown since 2012 and this one is a little bigger than the two previous," National Organizing Director Mark Schlossberg told the Examiner.
Oakland, CA calls on @JerryBrownGov to #banfracking. @#GlobalFrackdown What're you waiting for, Governor? pic.twitter.com/KZIYE4dBie

— Sandra Lupien (@SandraLupien) October 11, 2014
According to the latest Food & Water Watch report based on 150 recent studies on fracking's side effects, research concludes that only a full ban will protect our environment and people's health.
READ MORE:Living near fracking sites deteriorates health - study
Besides the global move to stop fracking, people all across the world are participating in another protest on Saturday – to block a controversial trade agreement between the US and the EU, called the Transatlantic Trade and Investment Partnership.
In many places the activists joined forces to protest both against fracking and TTIP which they see as a "corporate power grab."
Third annual #GlobalFrackdown came to @MyFountainSqr today http://t.co/8jR7m0nmvA via @HankMolskipic.twitter.com/jtvoNUf3OM

— Enquirer (@Enquirer) October 11, 2014
Chicago tells JCAR that weak fracking rules won't protect air, water, enviro and IL communities #GlobalFrackdownpic.twitter.com/QXRmYEyen5

— Food&Water Watch IL (@FWWIllinois) October 11, 2014