Start your engines: Maiden Russian F1 GP gets under way in somber mood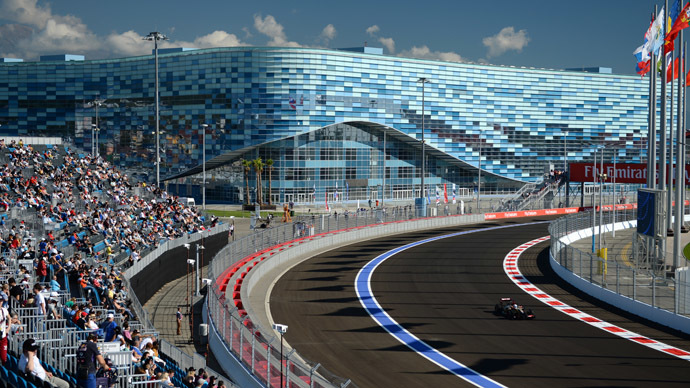 The Marussia F1 team will have only one car on the grid for Sunday's first Russian Grand Prix in Sochi as a mark of respect to injured driver Jules Bianchi. The Frenchman is in critical condition in a Tokyo hospital after suffering a crash last weekend.
Marussia, a joint Anglo-Russian venture that has its headquarters in the UK, had the option of putting a second car on the grid and using reserve driver Alexander Rossi, who is from the United States. But the team "feels strongly that fielding a single car, that of driver number 4, Max Chilton, is the appropriate course of action under the difficult circumstances of the weekend," a statement from Marussia read.
His team is doing their best to make sure he, if only in spirit, is part of the action in Sochi, with his car remaining in the team garage, ahead of Sunday's race, and qualifying on Saturday.
"In support of Jules and his family – the team and their cars will carry the familiar #JB17 graphic, to ensure that although Jules is not with them in Sochi this weekend, he is, nonetheless, racing on with the Marussia F1 Team," Marussia added.
Bianchi suffered a severe head injury at the Japanese Grand Prix last Sunday, after his car crashed into a crane, which was trying to remove another car that had skidded off the circuit during wet conditions in Suzuka. Speaking to a French newspaper, his father, Philippe, said his son is still critical condition, where he is being treated at the Mie General Medical Center in Tokyo.
"There was no noteworthy change" in his condition, Philippe Bianchi said. "Jules is fighting as he always did, the same way as if he was racing. He is strong."
Fellow F1 drivers have been showing solidarity with the 25-year-old Frenchman, with his teammate at Marussia, Max Chilton saying: "The support from the F1 family has been incredible and all we can do is be there to support Jules' family at this difficult time. It is going to be a very emotional weekend for the whole team, but we will try to get through it and keep praying for Jules," AP reported.
Russia's F1 debut
Lewis Hamilton won the last Grand Prix in Japan, when Bianchi suffered his horrific crash and the Frenchman's fate put it into perspective for the 2008 World Champion that winning is not always the most important thing.
"As I crossed the line, obviously I was pleased to have finally won at Suzuka – but as soon as we got back to the pits and heard what happened to Jules it suddenly didn't seem relevant anymore. My thoughts and prayers are with him and his family," Lewis wrote on his website before he arrived in Russia.
Hamilton currently leads the drivers' championship by 10 points from his Mercedes teammate, Nico Rosberg, and the Englishman is looking forward to getting to grips with a new circuit on the F1 calendar.
"It is fast, it is a kind of medium- to high-speed circuit. It looks like it will have good opportunities to overtake. It is going to be around the Olympic area, so it is going to be kind of neat in that respect," Lewis said, speaking to RT in Moscow on Tuesday.
The race will take place around the Olympic Park, which was used for Sochi's Winter Olympics in February. The track, at 5.8 kilometers, is the third-longest in the calendar and Hamilton says that it is great to finally have Russia as a Formula One destination, who spoke in glowing terms about the new complex that has been built.
'That means that they are very, very serious about it, to have the Grand Prix here as well as the Olympics. They really put so much effort into it. So I really hope that this is the beginning of a new relationship with Russia, for Formula One, and for me with Russia," said the 29-year-old Hamilton.
Sanctions no threat to Russia – F1 Supremo
Russia has been courting the world's biggest racing series since the mid-1980s, when it was still on the other side of the Iron Curtain. The complex in Sochi can seat over 50,000 spectators, while it cost in the region of $200 million to build.
One man who has already been impressed is Formula One's CEO, Bernie Ecclestone. Speaking to the TASS news agency, he said Russia had done very well to get the event ready, despite facing a lot of pressure from the west, with some politicians wanting the race to be moved due to Russia's perceived role in the Ukrainian conflict.
"That is something that will pass. I am sure," as he talked about the European sanctions imposed on Russia. "The Europeans and Americans are completely stupid trying to take on Russia. They are mad and they would never be able to win," Ecclestone said.
Ecclestone also added that Russian President Vladimir Putin had played a key role in bringing Formula 1 to Russia. In an agreement signed in 2010 between F1's CEO and Putin, who at that time was Russia's prime minister, races in Sochi will be part of the sports calendar until at least 2020.