Fertilize that! German farmer dresses cows in diapers in EU protest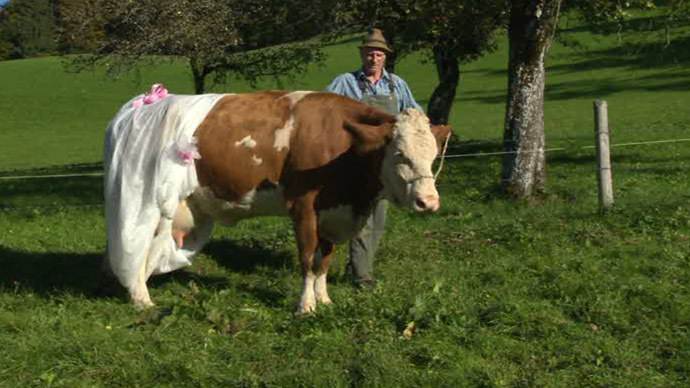 A German farmer has been putting nappies on his cows in protest at EU legislation that forbids the use of fertilizers on steep slopes. With no bovine-sized diapers available from the local store, white bed sheets with pink ribbons had to suffice.
The idea was the brainchild of Bavarian cattle farmer Johann Huber, who became fed up with an EU directive that did not allow farmers to fertilize slopes steeper than 15 percent. With cow droppings in theory counting as fertilizer, he sarcastically decided to try and abide by EU regulations by making sure that no cow droppings managed to land on the pristine Bavarian slopes.
"We have no standard nappies," he said. "They haven't been developed commercially yet."
Another farmer, Niklas Saenger, told the Star that the EU legislation to ban fertilizers on steep slopes was "ridiculous" and "not practical." He said it was almost as if the farmers were "expected to go along with a shovel and clear up" after their cows.
Farmers who fail to adhere to the EU legislation could face losing their subsidies, while the Telegraph says that Brussels is going to take legal action against Germany for being a serial offender in not implementing the fertilizer ban.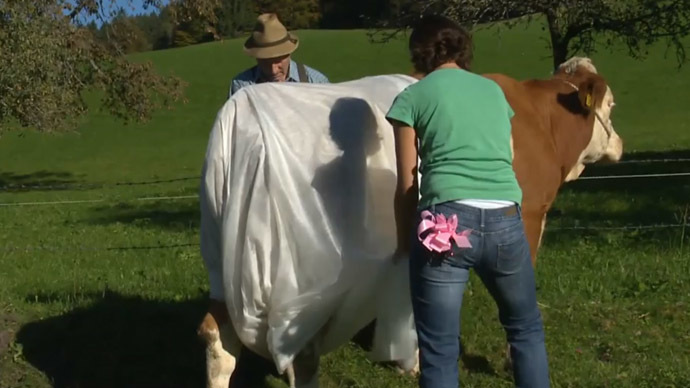 "We demand that Germany stops this ban," Anton Kreitmair, president of the Upper Bavaria Farming Union, at Wednesday's protest. "Slurry and dung are not pollutants, but valuable fertilizers."
Farmers in the southern German region are particularly worried because of the hilly topography of the area, which means a large area of farmland or grazing land has a gradient of more than 15 percent. This could also affect vineyards, with Kreitmair adding that half the grapevines in Bavaria would no longer be able to use manure to enhance their growth.
"Mountain farmers have a major role in ensuring that the Alps are one of the most sought-after travel destinations. Federal and state politicians need to ensure that the conditions continue to allow farmers to meet their many social duties," The Local reported Kreitmar as saying.