Posted dashcam video on Facebook? In Bavaria you face 300,000 euro fine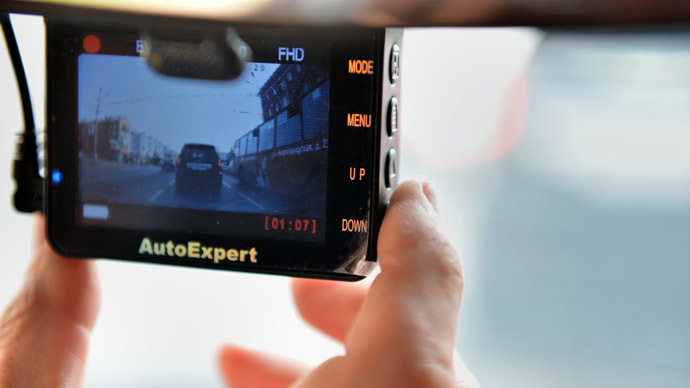 Motorists of Germany's Bavaria, beware! 'Likes' and 'shares' could cost up to 300,000 euro with the latest ruling, which fines people for uploading dashcam videos on the internet or passing them to the third parties.
A new rule forbidding the distribution of dash camera videos, as they could violate privacy, was introduced by the Bavarian State Office for supervision of data protection (BayLDA) in the German city of Ansbach on Monday.
"In the future, should it become known that drivers pass video films, recorded with their dashcams, to the police, insurance companies or similar organizations or publish them on the internet, the BayLDA will check that the regulatory act is applicable to issue a penalty in each specific case", BayLDA president Thomas Kranig said in a press release.
He also named the sum of administrative fines for such violations – up to 300,000 euro ($379,500).
Dashcams – video cameras installed behind the windshield inside a car – are not considered legal in some European countries, where data protection laws give them uncertain status.
German neighbor, Austria, announced a new rule prohibiting operation of dashcams in private cars in 2012. Fines vary from 10,000 euro ($12,600) to 25,000 ($31,600) euro in case of repeated violations.
Lower fines for dashcam usage were introduced in Portugal, where this kind of privacy violation could cost motorists from 500 euro ($630) to 2,500 euro ($3,160).
Switzerland banned use of dashcams in public places in 2013, underlining that they "cannot be justified on road safety grounds".
This September Luxembourg followed the trend of ruling out the increasingly popular dashcam videos. In the duchy, private users are not allowed to use dashcams and could be subject to a fine or even prison sentence. What's more, if they consider dashcam footage to serve as a proof of their innocence in a road collision, this kind of evidence would be disputed due to its illegality.
Videos recorded by dashcams are not regarded as providing enough grounds in police investigations in Sweden, Germany and Belgium.
In addition, there are special rules regarding dash cameras that set limits to their operation. In France, cameras must be installed in such a way that they don't obscure the view of the road. In Norway the camera screen must not distract the driver, as it could be regarded as a portable TV-set – and the footage may only be used for private purposes, posting it online is prohibited by law.
READ MORE: Biker survives rear-ending car by vaulting on to its roof (VIDEO)
However, rules are not that everywhere. In the USA, as well as in the UK and in Australia in-car cameras are generally quite legal. But the country where they are really popular is Russia, and the footage made by local drivers keeps the whole internet community entertained with weird accidents and lucky escapes.
You can share this story on social media: