Toxic exports allowed: EU drops labeling of Canadian tar sands as highly polluting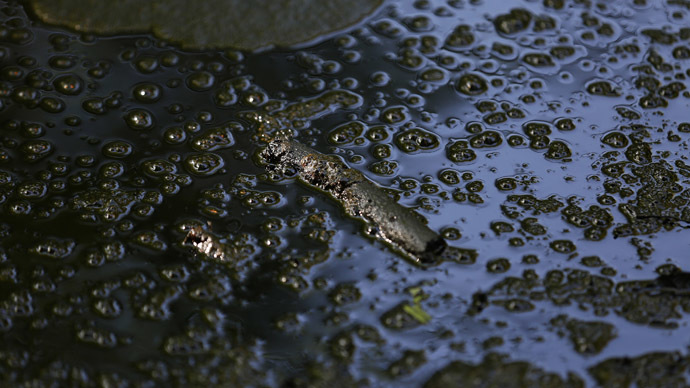 The European Commission has proposed a directive that abandons obligatory labeling of tar sands oil as highly polluting, opening way for Canada's sands crude imports and drawing criticism for putting oil producers' interests above the environment.
In light of recent economic tensions with Russia and the EU's energy dependence on its eastern neighbor, the European Commission has published a proposal, the text of which removes one of the biggest obstacles standing in the way of Alberta exporting its oil sands crude to Europe. The revised draft still has to be approved by EU member-states before being passed on to the European Parliament.
"The commission is today (Tuesday) giving this another push, to try and ensure that in the future, there will be a methodology and thus an incentive to choose less polluting fuels over more polluting ones like, for example, oil sands," EU Climate Commissioner Connie Hedegaard said in a statement.
"It is no secret that our initial proposal could not go through due to resistance faced in some member states," Hedegaard added. "I strongly recommend Member States to adopt this proposal and keep the safeguards that will allow cleaner fuels to be used in transport across Europe."
The desire for a trade deal with Canada had been a factor in revising the draft said EU sources, who spoke on condition of anonymity to Reuters.
Oil sands crude is more damaging to the environment as it emits more carbon over its life-cycle, but under the new draft that was EU will be counting it in the same category as conventional oil, opening way for larger imports from Canada.
The debate about labeling tar sands crude, in the EU started in 2009 when the block approved legislation aimed at cutting greenhouse gases from fuel by 6 percent by 2020, but failed to agree how to implement it. The law is part of the EUs broader strategy to reduce greenhouse gas emissions 20 percent by 2020, compared to 1990 levels.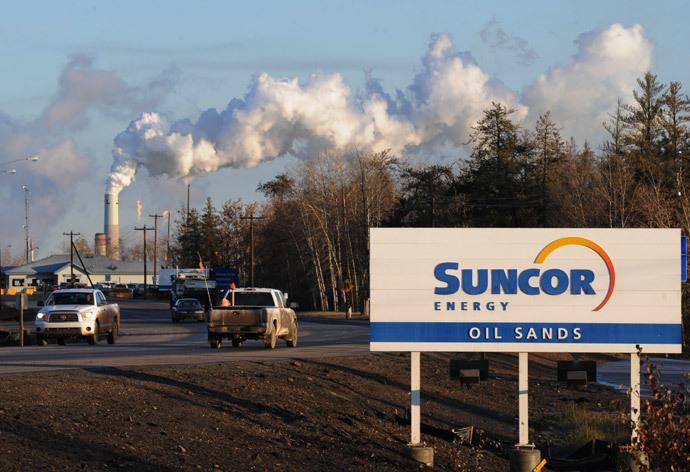 In 2011, the European Commission agreed tar sands oil should be given a carbon value higher than for conventional oil, but some EU states blocked the initiative, forcing the EU Commission to reconsider the proposal. The original proposal singled tar sands oil out as significantly more polluting, as oil sands have a carbon intensity value of 107, far above conventional crude's 93.2.
The new proposal still requires refiners to report average emissions of their fuel but no longer requires tar sands to be singled out. Under the new proposed methodology, oil firms can use a default average for the carbon intensity of all their petrol or diesel when reporting fuels.
According to a recent Friends of the Earth Europe report, Ottawa and Washington have spent considerable lobbying efforts to push for concessions in the energy sphere from the EU by using negotiations over the Transatlantic Trade and Investment Partnership.
"The Commission has recognized the highly polluting nature of tar sands but is going to let this climate killer be used by European oil companies with no penalty at all," Colin Roche, extractives campaigner with Friends of the Earth Europe, told Common Dreams. "The Commission has clearly seen the problem but – under heavy pressure from the oil industry and the Canadian and US government – chosen not to act on it."
"After a five-year siege by Canadian officials and industry lobbyists, the EU is letting oil corporations off the hook," said Nusa Urbancic, a program manager at campaign group Transport & Environment. "Excusing the oil industry from carbon reduction efforts is unfair, inefficient, and costly as well."
Last month Canada's Suncor already shipped its first tanker-load of western Canadian heavy crude from Canada's East Coast to Europe, while critics of the new move have criticized the draft.
"The Barroso Commission has chosen to put trade deals like TTIP (the Transatlantic Trade and Investment Partnership) before the environment," said Greenpeace EU energy and transport policy director Franziska Achterberg. "This should be a lesson to (Commission president-elect Jean-Claude) Juncker and his team. Public opposition will only intensify if he allows trade deals to be used to undermine the EU's environmental legislation."
You can share this story on social media: