Israel shells S. Lebanon after border blast wounds two IDF soldiers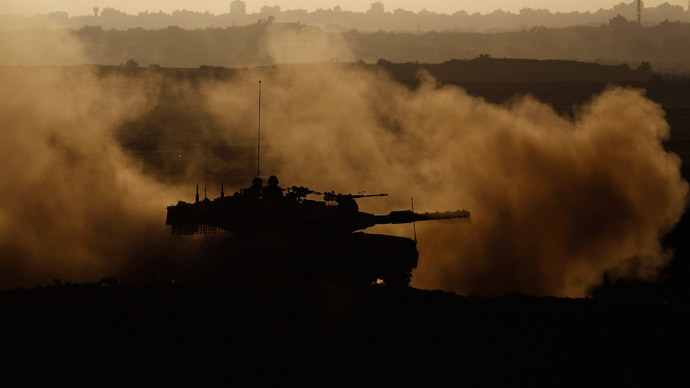 The Israeli Army fired artillery shells into Lebanon after at least two IDF troops were injured in a blast on the border between the two states, an Israeli security source told Reuters.
The Israeli Defense Force has confirmed the shelling of Lebanese territory, saying that it hit two outposts of the Hezbollah militant group in the south of the country on Tuesday.
Earlier reports suggested three Israeli soldiers sustained wounds, but the Israeli Defense Force's official Twitter is talking of two soldiers being injured.
Initial reports indicate that the explosion was caused by an explosive device that was planted with the intention of attacking IDF soldiers.

— IDF (@IDFSpokesperson) October 7, 2014
According to Lebanon's Daily Star, an Israeli tank detonated a planted explosive device as it was passing through a military route in the Kafr Shouba hills.
Hezbollah claimed responsibility for the blast. It is the first time that the militant Shiite group acknowledges its fighters attacked Israeli troops since 2006.
Security sources told the newspaper that Israeli forces have launched at least 15 shells – at a rate of two a minute – in retaliation.
BREAKING: Two soldiers injured from an explosion near the Lebanon border. The incident is currently being reviewed.

— IDF (@IDFSpokesperson) October 7, 2014
The attacks reportedly took place just 200 meters from Lebanese residential areas situated along the border. Two days earlier a Lebanese soldier was injured in a shooting in the same area.
Israel and Lebanon technically remain in the state of war since a month-long conflict between the IDF and Hezbollah in 2006.
You can share this story on social media: