5 Airbus jets conduct breathtaking formation flight (VIDEO)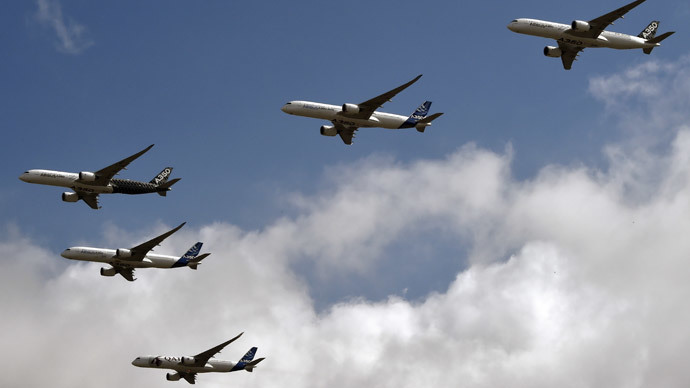 European aircraft maker Airbus has celebrated the type certification of its newest A350 XWB wide-body jet by releasing a spectacular video of a formation flight involving five A350-900 test planes.
The planes, worth US$3 billion, took to the skies for the joint flight in Toulouse, France on September 29.

The A350 XWB airliner was awarded European EASA type certification, with Airbus expecting US FAA certification to follow "shortly."
"Accumulating more than 2,600 flight test hours, we created and successfully achieved one of the industry's most thorough and efficient test programs ever developed for a jetliner," Airbus president and CEO Fabrice Brégier said in a statement.

The certification means the EU company will be able to conduct its first delivery, to Qatar Airways, before the end of the year.

A350 XWB is a family of long-range, twin-engine wide-body jet airliners, which became the first Airbus planes to have both fuselage and wing structures made primarily of carbon-fiber-reinforced polymer.

It can carry 250 to 350 passengers in a typical three-class seating layout, or a maximum seating of 440 to 550 passengers.

The A350 is a successor to the A330 and A340, competing with Boeing's 787 Dreamliner and 777 series.