Hong Kong protests get visual: Marriage proposals, angry man climbs bridge, drone overflights (VIDEOS)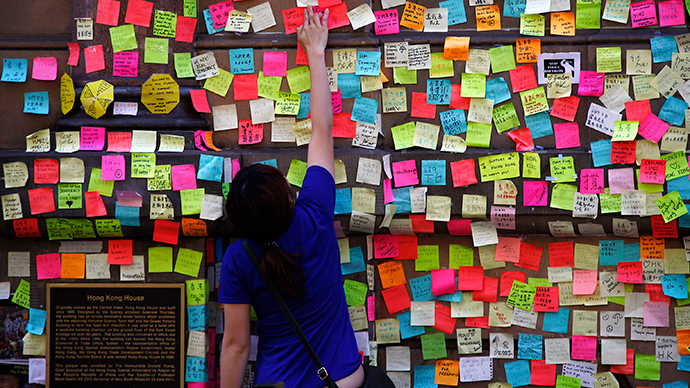 Hong Kong protests have become a scene for major events, with activists staging marriage proposals and wedding photos. Others have been less romantic – an angry man on a bridge tried to talk the crowd into going home, and drones flickered past the site.
Amid violent clashes in the crowd of protesters, 22-year-old Yau Chi-hang got down on one knee in front of his girlfriend Crystal Chan, 21, to propose - after two months of dating. The happy bride-to-be, wearing a plastic cape to protect against tear gas, said "yes" and the crowd burst into applause.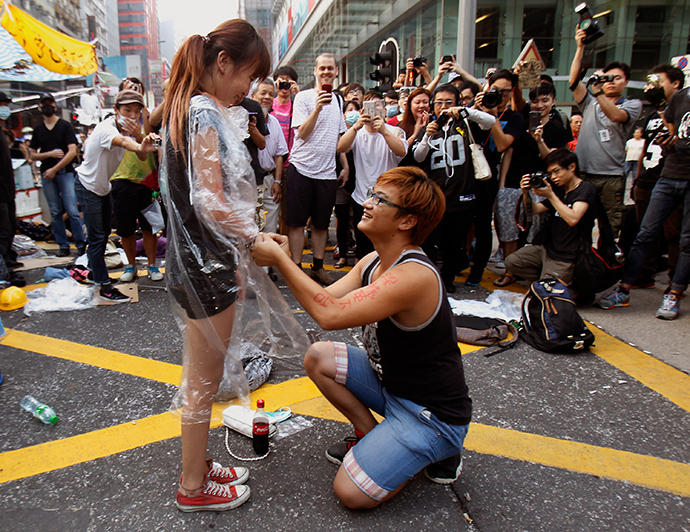 Hong Kong streets have become a hotbed for newlyweds who fancy a different approach to wedding photos.
Couples kissing in the midst of demonstrations now firmly occupy social media.
Hong Kong: Love in the Time of Occupy. http://t.co/21uzQcNuSZpic.twitter.com/tPtNaijQZG

— Chungyan Chow (@ChungyanChow) September 30, 2014
【香港選挙】永遠の愛。この写真を見たとき、自分たちは香港人で、自分たちの文化があると思った。➡☝(caterpillarIN )看到這張照片,感動的不單是照片而是旁邊市民留言時引用的歌詞…我覺得自己真的是香港人,我們有自己的文化。 pic.twitter.com/5A1pRB8AYi

— 林 志行 (@linsbar) September 28, 2014
Cute protester couple got engaged at #OccupyCentral this morning: http://t.co/TD6SZjs5OSpic.twitter.com/GMsFGJQzTU

— James Griffiths (@jgriffiths) October 5, 2014
Meanwhile, a "Lennon Wall" popped up in the protest area, with demonstrators using the outside of a government building to send their messages to authorities and the world.
"Loyalty to the country always, loyalty to the government when it truly deserves it," says one of the stickers. Another says "Citizens' Awakening."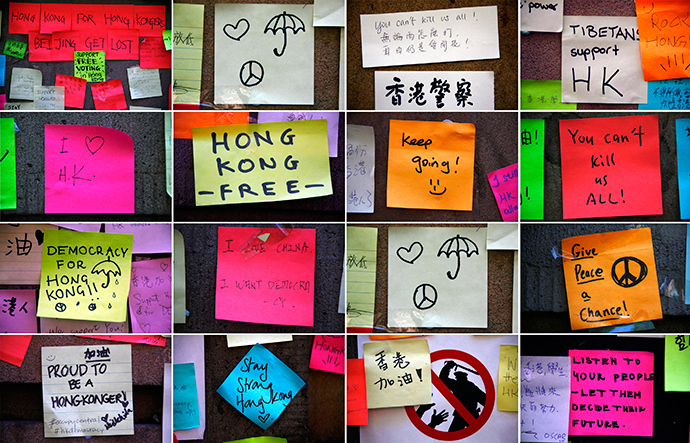 However, not everyone in Hong Kong is allowing themselves to get carried away by the week-long rally. A man climbed a bridge in Admiralty and actually demanded the protesters leave the streets, as his three children - aged 8, 11 and 14 - had to go to school.
The "bridge man" decided to leave his perch after almost an hour of speaking to three negotiators.
"I am only a father of three," he told the press after he descended from the bridge, "I'm neither for nor against [Occupy]...all I want is that my children can go to school and learn what is true democracy."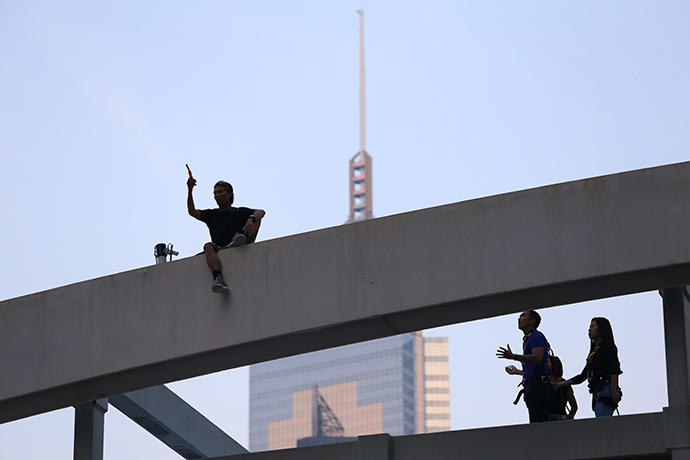 A drone captured the scale of the crowd in Hong Kong. Footage released on YouTube shows the unmanned device traveling through the city's skyscrapers and its central business district.
Supply stations – stocked with water bottles, snacks, disposable raincoats, towels, face masks, and tents – have been set up, indicating that demonstrators do not plan to clear the streets anytime soon. People are recycling, scrubbing away anti-government graffiti, and handing out snacks to one another.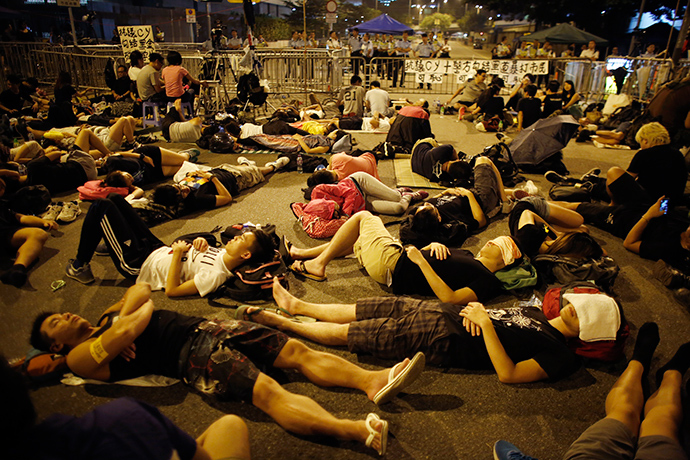 The rally was dubbed the 'Umbrella Revolution,' as many protesters were using umbrellas against tear gas and pepper spray fired by police officers. Even after the tear gas and pepper spray had drifted away, Occupy Central activists participating in the sit-in kept their umbrellas open.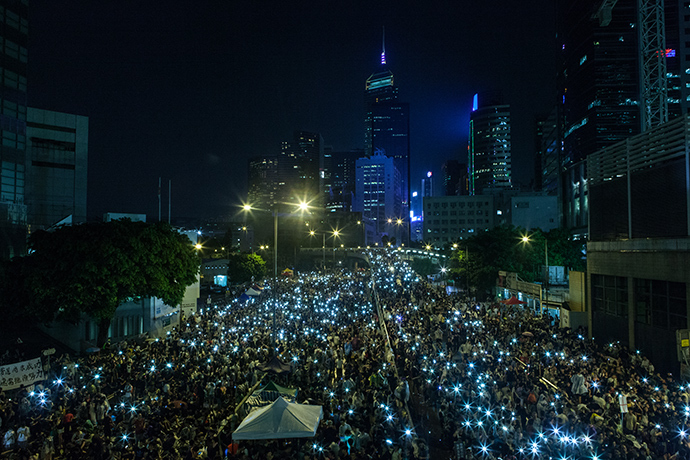 Hong Kong is witnessing one of the city's largest rallies in decades, with tens of thousands of people taking to the streets to join the protest movement, widely known as #OccupyCentral, which demands election reform.
The protesters, who have been gathering for more than a week in the city center, are demanding that Chief Executive Leung Chun-ying resign and Beijing stop vetting candidates who want to stand for the chief executive's job in the 2017 elections.
Some 80,000 people have gathered for the protests, according to organizers, though no independent estimates are available. The demonstration may be the largest to take place in the former British colony since China resumed rule in 1997.
On Sunday, demonstrators announced they will withdraw from several protest sites, but will continue their action.