Russian theater legend Yury Lyubimov dies at 97
Published time: 5 Oct, 2014 12:18
Edited time: 5 Oct, 2014 17:53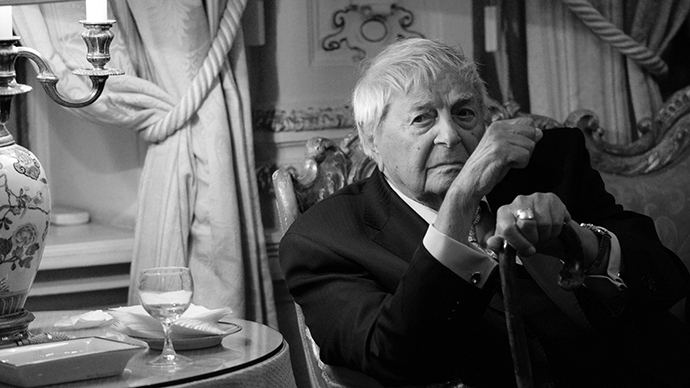 Prominent Russian theater director, actor and activist Yury Lyubimov has died in a Moscow hospital days after turning 97. A reformist of the Russian arts, he leaves a legacy of the Taganka Theater, which he founded and headed for five decades.
Lyubimov was taken to Botkin Hospital on Thursday with a serious heart condition just two days after celebrating his birthday. Despite all effort to save him, he passed away on Sunday morning at the hospital's cardiology ward, his widow Katalin told TASS.
"His passing was a peaceful one, in his sleep," she said.
The death and its cause came as no surprise. Back in October 2012 Lyubimov's heart problems resulted in a serious crisis, which saw him in a coma for a day and involved a long recovery.
Lyubimov's theater career saw more than a hundred productions that he directed or acted in. One of the most acclaimed figures in the Soviet theater, he was praised for his artistic style and bold stage experiments in the 1960s.
The now-famous Taganka Theater in Moscow was founded in 1964. The theater was not only a place for cultural avant-garde but also a hotbed of intellectual opposition to the dogmas of Soviet policies.
He worked with some of the greatest figures in Soviet and Russian culture including director Vsevolod Meyerhold, composer Dmitry Shostakovich, writer Boris Pasternak and actor and singer Vladimir Vysotsky.
In early 1980s Lyubimov's resistance to censorship from the authorities escalated as the Soviet government tightened the screws after the détente period of the 1970s and his worldwide acclaim failed to shield him.
After Lyubimov gave several interviews critical of the Soviet authorities while on a tour, his position in the theater and his citizenship was revoked in 1984. He spent four years in forced exile directing plays at La Scala, Covent Garden and other most prestigious stages. His return in 1988 was triumphant.
The later career of Lyubimov was marred by an ugly scandal and a falling out with the Taganka Theater troupe, possibly impacted by his controlling leadership style. In 2011 the maestro accused actors of being lazy and only carrying about money and left the theater.
This didn't stop him from continuing his work, and in the last years of his life Lyubimov directed two new major productions: a dramatization of Dostoevsky's Demons at Vakhtangov Theater and the opera Prince Igor at the Bolshoi Theater.
The news of the theater titan's death on Sunday triggered a flow of condolences from across the world. Russian President Vladimir Putin said Lyubimov's influence on the development of the modern Russian theater was hard to overestimate.