Swiss Red Cross worker killed as ICRC's Donetsk HQ, city center shelled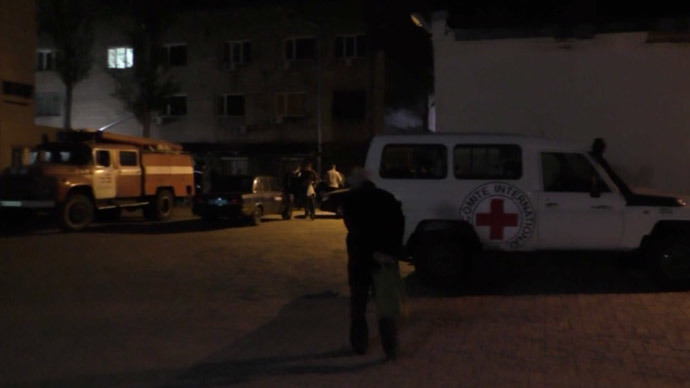 A Swiss Red Cross worker was killed in Donetsk as the office of the humanitarian organization was shelled, according to the International Committee of the Red Cross (ICRC).
The ICRC has confirmed on its Twitter account that its office in Donetsk has been shelled and a humanitarian worker died in the attack.
Non-profit organization condemned the Donetsk shelling, saying it was in violation of international humanitarian law.
"We are deeply shocked by this death. We know that today [Thursday] in Donetsk there were other casualties among civilians. Indiscriminate shelling of residential areas is unacceptable and violates the international humanitarian law," the ICRC's statement said.
ICRC spokesman Ewan Watson confirmed that the worker was a Swiss national.
"One of our colleagues, a Swiss national, was killed in Donetsk, Ukraine, when a shell hit close to our office. We're deeply distressed by this loss," Watson told Reuters.
One of our colleagues in #Donetsk#Ukraine was killed when a shell hit close to our office. We're deeply distressed by this loss.

— ICRC (@ICRC) October 2, 2014
"A Red Cross representative, Laurent Etienne, a citizen of Switzerland, born 1976, has been killed," Eduard Basurin, head of the political department of the Defense Ministry of the Donetsk People's Republic, told TASS news agency.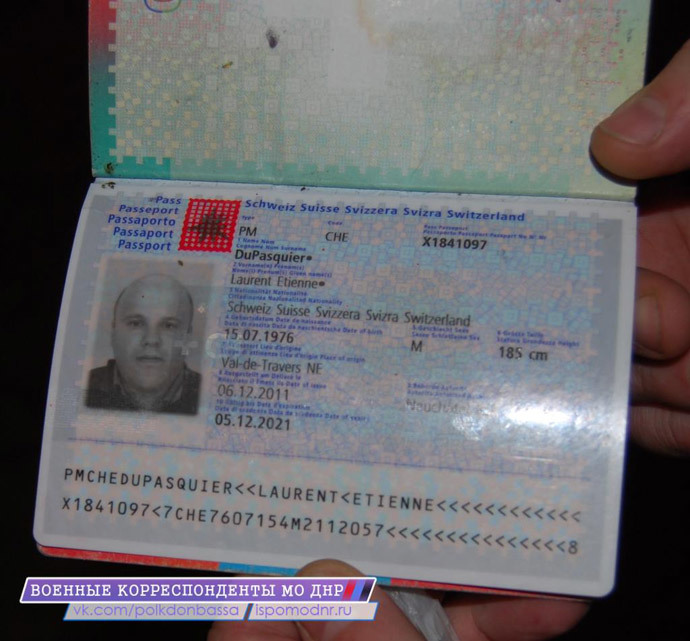 Etienne was deputy head of the Red Cross mission in Donetsk, according to an Interfax correspondent.
The death of the humanitarian worker is very concerning, a spokesperson for the Organization for Security and Co-operation in Europe (OSCE) Special Monitoring Mission to Ukraine told RIA Novosti.
He expressed condolences, adding that the OSCE will investigate the incident and prepare a report by Friday.
Head of the OSCE and Swiss President Didier Burkhalter also said in a statement he was "shocked" to learn of all the deaths in Donetsk, and urged both parties of the conflict to cease fire immediately.
Burkhalter added that the ceasefire provides "a real opportunity to de-escalate the situation in a stable way...The civilian population, which has been suffering from violence in the region for months, are looking forward to a return to normal life."
Several blasts were heard in the center of Donetsk as it was heavily shelled, RT Arabic correspondent Anna Knishenko reported from the eastern Ukrainian city.
Над центром #Донецк черный дым. Обстрел был очень сильный. 3 серии взрывов pic.twitter.com/y1oAbcbsFu

— RT Anna Knishenko (@A_Knishenko_RT) October 2, 2014
RT English correspondent Maria Finoshina also reported that a residential area was shelled and that among the hit areas were dormitories for displaced people from Eastern Ukraine and returned POWs.
We hear about 4 more shells. 3 more apartment buildings and garages are targeted. #Donetsk residential areas shelled.

— Maria Finoshina (@MFinoshina_RT) October 2, 2014
The City Council confirmed the shelling on its website, adding that emergency services were deployed to the site.
"We can confirm that a mortar hit a nine-storey block of flats in Universitetskaya Street," the self-proclaimed republic's press service told TASS news agency, adding that casualties had been reported.
According to a RIA Novosti correspondent, the shelling was carried out by the self-propelled multiple rocket launcher system BM-27 Uragan. Witnesses said that a hospital and a shopping center were hit by mortar fire.
Public transport operations have been suspended for an uncertain period of time, the City Council statement said.
Earlier on Thursday, fierce fighting was ongoing in and around Donetsk airport, while plumes of black smoke were rising from the area of the building.
On Wednesday, three people died at a school on the first day of classes in the country. Six others were killed at a bus stop as Donetsk came under fire – reportedly from Ukrainian army positions.
Thirty more people were injured in the attacks, which were described by the Russian Foreign Ministry as "blatant and intolerable."
READ MORE:9 killed, 30 injured in shelling in Donetsk, E. Ukraine, school hit
The attacks come despite a ceasefire agreement between Kiev authorities and eastern militia forces, which was signed on September 5 in Minsk.