​Drug & alcohol addicts in German city get free beer, cash for cleaning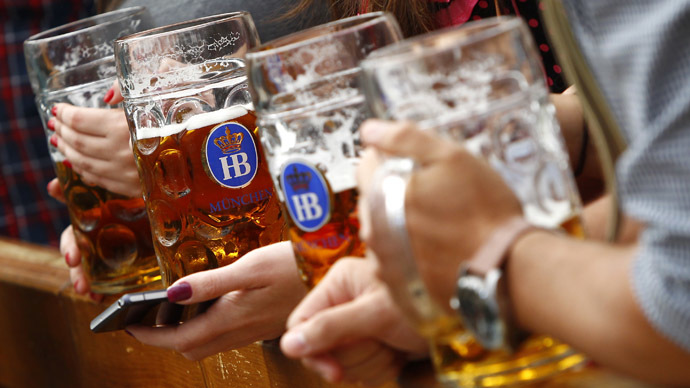 A controversial scheme to reward alcohol and drug addicts with beer and tobacco for sweeping streets has been launched in a western German city.
A test group of six people have started cleaning the streets around the central railway station in the city of Essen for 1.25 euro ($1.50) per hour, plus a warm meal, three bottles of beer and cigarettes.
Critics label it as a 'cheap dehumanizing labor project', arguing that alcoholics should not be encouraged to work by getting more alcohol - even beer - on the public tab.
The project that started this Wednesday aims to "harm reduction" for the most severe addicts and reintegrate them into society, explain managers from the Suchthilfe Direkt (Addict Support Essen) charity.
"The project participants are people who need to have a daily structure just to get back on their feet," coordinator Oliver Balgar told Bild newspaper, reported the Local.
It attracts people who have problems with contacting social and medical services. Its participants are those who have failed to undertake therapy and have serious health problems – mostly addicts of multiple substances, hard drugs or alcohol.
The initiative is based on a Dutch scheme and is already in place in Amsterdam. To get people back into workforce the Dutch project initiators give volunteers five beers, lunch, tobacco and about $13.
"It would be nice if we could give the homeless a bit of their dignity back, when they're already at rock bottom," Sabine Zschaler, chairman of charity Homeless Support Ruhr and Lower Rhine, told broadcaster ZDF, when the project was announced back in May. "But that's not going to happen if we pay them with beer."
"The aim of the program is not to supply people with beer," argue the project managers. "For the participants it is about a meaningful daily structure, feeling useful and learning a new way to behave."
Frank, a 45-year-old participant from the Amsterdam clean-up project, supported its policy back in 2013.
"I think I can speak for the group and say that if they didn't give us beers then we wouldn't come. We need alcohol to function, that's the disadvantage of chronic alcoholism," Frank said.
You can share this story on social media: