Lithuania becomes first EU country to ban energy drink sales to teens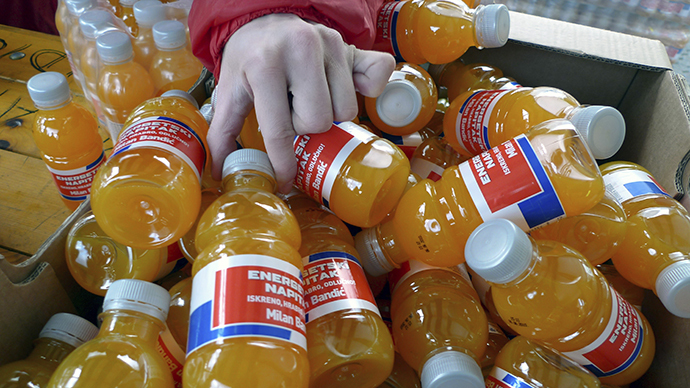 Selling energy drinks to minors will soon be illegal in Lithuania, as the parliament voted overwhelmingly to ban highly caffeinated beverages to people under the age of 18. Lithuania is the first EU country to enact such a ban.
The ban, which includes non-alcoholic beverages containing more than 150 milligrams per liter of caffeine, will take effect in November. It also applies to beverages containing a range of stimulants like guarana, ginsenosides, glucuronolactone, and taurine.

While considering the measure, the Baltic state's government cited health concerns, stating that a high concentration of caffeine may lead to addiction and hyperactivity. Citing scientists, the parliamentarians also stressed that it may encourage youngsters to try drugs.

As a result, lawmakers unanimously voted for the ban, with only six people choosing to abstain.

Now Lithuania, an EU member since 2004, hopes other countries in the 28-member bloc will follow suit.

"According to our survey, a majority of other nations say that they only have recommendations in place, not bans," ministry official Almantas Kranauskas said. "I think it will serve as an impetus for other countries. Many of them are still hesitating and might be influenced by the lucrative energy drinks industry."

Critics do claim the ban might have a negative influence on the soft drinks industry in Lithuania.

"It is wrong to think that these restrictions could be conducive to improving business conditions. It will trigger significant chaos and huge costs," liberal lawmaker Eugenijus Gentvilas said.

In addition, critics have pointed out that coffee also contains caffeine, stressing that energy drinks aren't the only culprit.

"I'm not sure which products fall into the definition; it is not only energy drinks, but coffee," local 15 min.lt news portal quoted a member of the liberal movement Remigijus Simasius.

"Taurine is now put not only in drinks but in chewing gum, chocolates, and candies too," another opponent told the news portal.

MP Alma Monkauskaite objected to the arguments, saying that energy drinks contain up to ten times more caffeine than coffee.

"It is important to public health, even though a bit of a disruption to business," she said, according to balsas.lt website.
You can share this story on social media: