Baghdad 'totally against' Arab anti-ISIS airstrikes in Iraq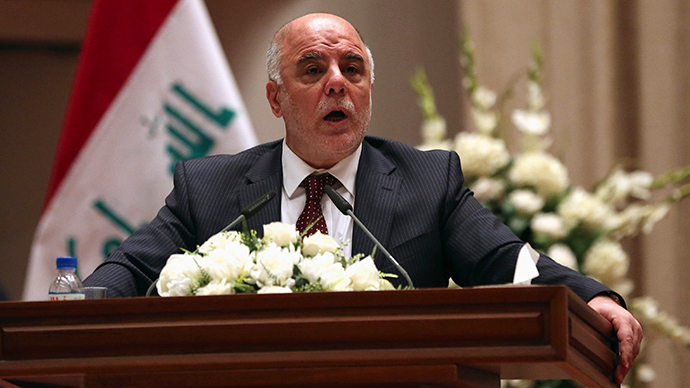 Iraqi Prime Minister Haider Abadi said he is "totally" against Arab nations' involvement in airstrikes against the Islamic State on the country's soil, while absolutely welcoming this kind of action in Syria, according to a BBC interview.
READ MORE: 'Lack of intelligence': US airstrikes in Syria, Iraq could lead to high civilian casualties
While rejecting aerial bombings of targets in Iraq, Abadi called the same type of warfare a "bonus" when it comes to Islamic State (ISIS/ISIL) targets in Syria.
"Because without that I cannot defeat ISIS in Iraq. To defeat ISIS, its basis need to be destroyed in Syria, they must be eliminated and that is part of the process," Abadi told the British channel in Baghdad on Wednesday.
"I cannot as an Iraqi Prime Minister launch an attack on Syria or be seen as a part of the attack on Syria because it is a neighboring country to us. But, I welcome any international effort to remove that threat from Syrian territory, which is threatening Iraq," Abadi said.
At the same time, Abadi refused any foreign ground troops in Iraq. "We are very clear we will not accept any troops on the ground except Iraqi troops," he said.
He explained that the country's army could defeat the Islamic State on its own "if we have good air cover." The US-led coalition has "filled many gaps" in the country's battle against the militants, Abadi added.
He also blamed "international and regional polarization" for the Islamic State's rapid advances earlier this summer.
Abadi stated that Iraq managed to contain the direct threat posed by the Islamic State, but that he is not "taking any chances." Some of his recent efforts to increase public protection included restructuring the army and asking the UK for training, intelligence, and technology support.
The prime minister is new to his post, as Iraq approved a new government headed by Abadi on September 8. Abadi won parliament's vote of confidence, with 177 MPs backing him
READ MORE: Iraqi parliament approves new PM, govt
Since August, over 230 airstrikes have been conducted on Islamic State positions in Iraq, while more than 70 bombings have hit Syria since the start of the military campaign there on 22 September.
The coalition was later joined by Arab states including Saudi Arabia, Bahrain, Jordan, Qatar, and the United Arab Emirates – all of which contributed to airstrikes over Syria only, while the US, the UK, and France were hitting targets within Iraq.
Islamic State jihadists have captured territories from Iraq's Diyala province to Syria's Aleppo. The militant group, which is notorious for its brutal violence, separated from Al-Qaeda in early 2014.
You can share this story on social media: