'Tons of bombs only delay threat': Erdogan wary of airstrikes on ISIS, but ready to cooperate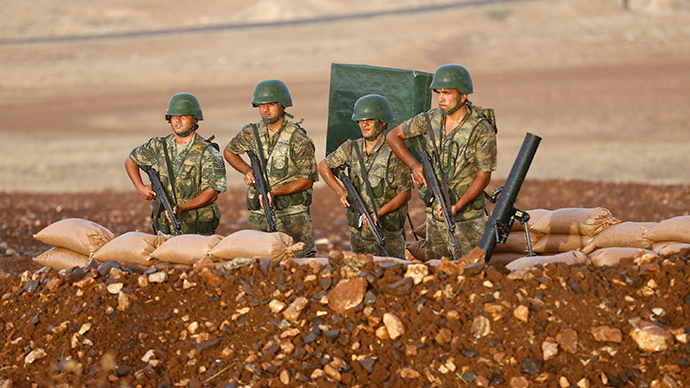 Turkey will join the US-led fight against terrorist groups in the region, including Islamic State militants, President Tayyip Erdogan said on Wednesday. At the same time, NATO has promised to defend Turkey if it is attacked.
The country deployed tanks and armored vehicles on its border with Syria earlier this week, following the advance of Islamic State insurgents. As fighting in the region has intensified with the US-led coalition conducting airstrikes against militants in Iraq and Syria, the government has sent a proposal to parliament for further action.
The government wants its powers broadened to authorize cross-border incursions, with the Turkish parliament expected to discuss the possibility of the country's military involvement on Thursday.
"We will fight effectively against both [Islamic State] and all other terrorist organizations within the region. This will always be our priority," President Erdogan said in his opening speech of the legislative session at the Turkish parliament. "We are open and ready for any cooperation in the fight against terrorism."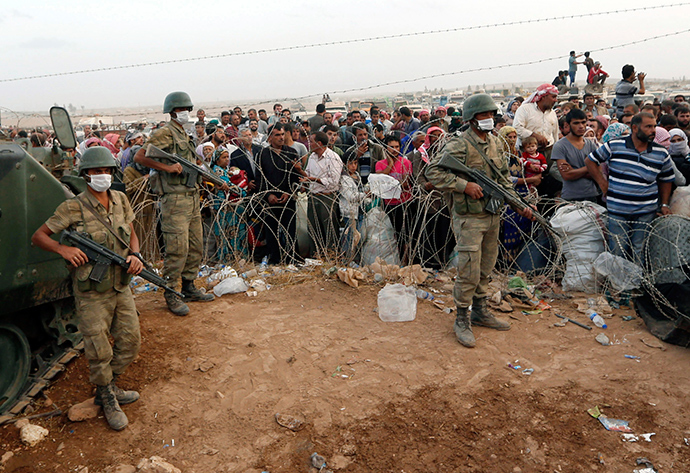 At the same time, NATO has promised military aid to country, which shares a 750-mile border with Iraq and Syria.
"Our basic responsibility is to stand up and be very clear that we are going to protect Turkey, that collective defence, Article 5 [NATO's key mutual self-defence clause], is something which is also going to be applied if Turkey is in any way attacked," the alliance's new secretary-general, Jens Stoltenberg, said during his first press conference at NATO's headquarters on Wednesday.
READ MORE: Turkish troops could be used 'to protect safe zone in Syria' – Erdogan
Before parliament is set to vote on a mandate to allow the deployment of foreign troops on Turkish soil, the president has stressed that the Islamic State should not be the only group targeted by the military campaign.
"Tons of air bombs will only delay the threat and danger...it is inevitable that temporary solutions will cause Iraq to face such interventions every 10 years," Erdogan said, adding that "ignoring Syria will also delay a proper solution."
Turkey may send its troops into Syria or Iraq, but Ankara has also made clear that it doesn't want the crisis to strengthen the regime of Syria's leader, President Bashar Assad, and expects him to be removed from power.
"We will continue to prioritize our aim to remove the Syrian regime, to help protect the territorial integrity of Syria and to encourage a constitutional, parliamentary government system which embraces all [of its] citizens," Erdogan said.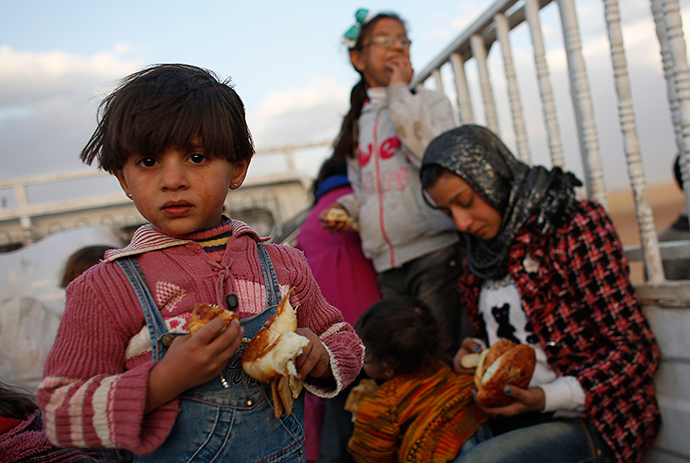 The country fears that instability in the region caused by the Al-Qaeda offshoot – which has captured large areas of both Syria and Iraq – could bolster Kurdish militants allied to Kurds in Turkey who are fighting for greater autonomy.
Turkey's decision for involvement in the military campaign could have also been triggered by the militants' advancement towards a historical site – the tomb of a grandfather of the Ottoman Empire's founder.
The 700-year-old mausoleum of Suleyman Shah in northern Syria, located around 20 miles from the border, is considered a sovereign territory by Ankara. The tomb, guarded by Turkish soldiers, was made the country's territory under a treaty signed with France in 1921 (when France ruled Syria). Turkey has repeatedly made clear it will defend the area if it is attacked.
You can share this story on social media: