Violence erupts near toppled Lenin statue in Kharkov, Ukraine (VIDEOS)
Published time: 30 Sep, 2014 12:23
Edited time: 30 Sep, 2014 12:53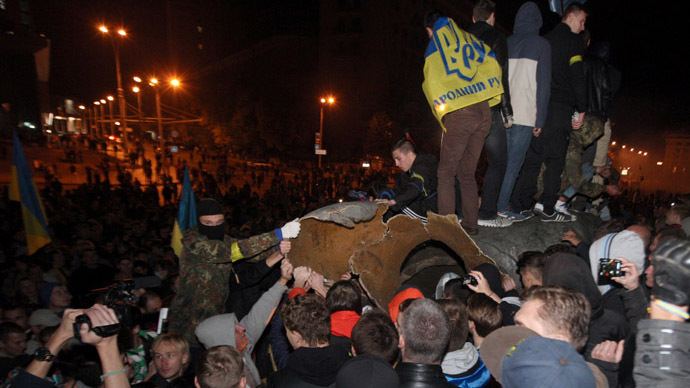 Tensions remain high around the toppled Lenin monument in Kharkov, Ukraine, where overnight skirmishes saw a group of radical youths attack demonstrators protesting the demolition of the statue.
Massive Lenin statue sawn down, toppled in Ukraine's Kharkov (PHOTOS, VIDEO)

Videos of the clashes which emerged online show that the majority of the attackers were hiding their faces under balaclavas. Descriptions to the videos describe the radical youths as violent football fans, or 'Ultras'. Other reports pointed at youths wearing the nationalist Right Sector group's insignia.

One of the most disturbing episodes features a man with his face swollen and stained with blood being beaten by several people, with one of the attackers shouting "On your knees!" and "He insulted the Ukrainian people."
A crowd opposing the demolition of the Lenin monument gathered beside the now-empty pedestal on Monday, with many people laying flowers at the site.

In the evening, the peaceful rally participants were driven away by the radical youths, who threw firecrackers and smoke grenades at the crowd.
У постамента поваленного Ленина продолжает стоять небольшой митинг противников сноса памятника. #Харьков #Харківpic.twitter.com/pVdm3Mz3h1

— StudMedia Kharkov (@StudMedia) September 29, 2014
The youths then kicked the flowers off the plinth, chanted anti-Putin slogans and sang the Ukrainian anthem.

Some people tried to stand against the group. Skirmishes broke out, with no police acting to intervene against the mob, according to local media.
Other reports claimed a police officer who tried to intervene was injured.
"Right now near where Lenin was, Ultras are beating Kharkov residents," a Facebook post by the 'Kharkov self-defense' group reads. "Around five injured. One was carried away on a stretcher. A policeman who tried to stop the attack was seriously hurt."
The Lenin monument in Kharkov was toppled overnight September 28-29.
The OSCE mission in Ukraine says the 'Azov' volunteer battalion, under control of the country's Defense Ministry, participated in the turmoil leading to the statue's demolition.

"The crowd, composed of men and women of different ages and including children, was led by members of the 'Azov' volunteer battalion, as well as young men and women with masks," the OSCE's Monday report says. "Some of the demonstrators marched towards Liberty Square, where Lenin's monument was located. There, the SMM observed a group of young men with masks trying to climb on top of Lenin's statue, while the crowd present on the square had increased to approximately 5,000 people."

A criminal investigation into the toppling of the monument was closed after the governor promptly issued an order authorizing the demolition.
Kharkov's Mayor Gennady Kernes announced on Monday he intended to restore the monument.

Toppling Soviet-era monuments has been a trend in Ukraine since the end of last year, when then-President Yanukovich's refusal to sign an agreement on integration with the EU caused mass protests across the country.

A landmark episode in a wave of monument demolitions was the pulling down of the Lenin statue in the center of Kiev on December 1, 2013.