Syria to UN: We stand with anti-ISIS global effort, but what about our sovereignty?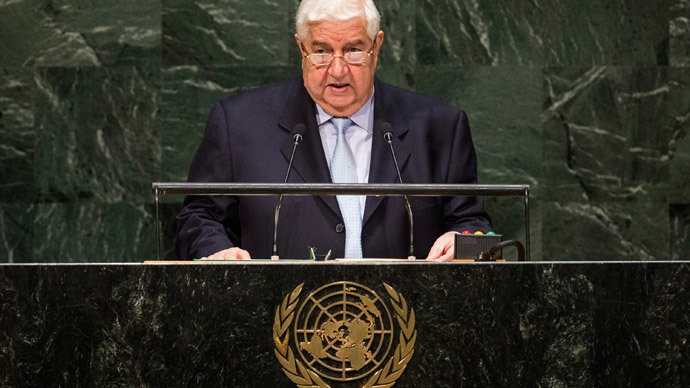 Syria took the stand at the UN on Monday announcing its support for the global struggle against Islamic State (IS) militants and warning of the severe danger the jihadists pose. However Syria has warned that strikes could violate its sovereignty.
"ISIS and Nusra [front] and the rest of the Al-Qaeda affiliates will not be limited within the borders of Syria and Iraq but will spread to every spot that it can reach, starting with Europe and America," Foreign Minister Walid al-Moualem said at the United Nations General Assembly on Monday.

While he steered clear of outright condemning the US airstrikes within Syria's borders, he did offer a warning that any military action while support for militants continued could lead to the development of a situation in which "international community will not exit in decades".

"The Syrian Arab Republic reiterates that it stands with any international effort aimed at fighting and combating terrorism, and stresses that this must be done in full respect of the lives of innocent civilians and within the frame of full respect of national sovereignty, and in conformity with international conventions," Moualem said.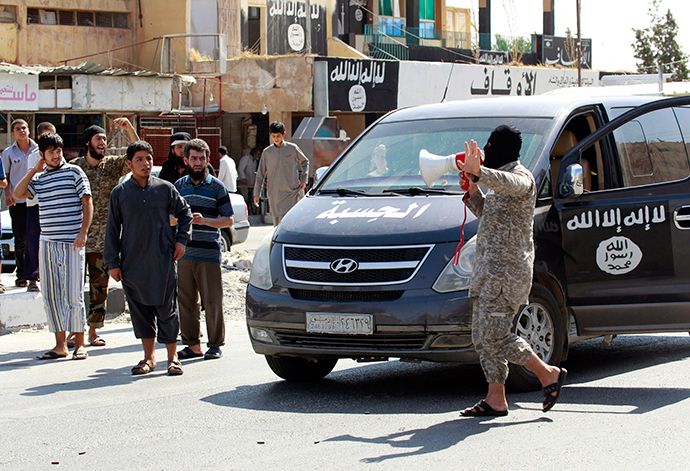 President Barack Obama authorized US air strikes against Islamic State targets in Syria earlier this month. Shortly afterwards, Defense Secretary Chuck Hagel said the US Central Command plans to take "targeted actions against ISIS safe havens in Syria," including striking infrastructure. The US has said that it would arm the moderate opposition, prompting fears that the sovereignty of Syria's government could be threatened.
The Syrian FM pointed out that Damascus has been warning of threats for three and a half years, adding that they have been warning, and reiterating the warning.

He said that a lesson needs to be learned from previous years and an international effort devised to stop terrorist groups "in the same way that those organizations have rallied themselves from all corners of the earth and brought them to one spot to train and arm and re-disseminate their ideology and terrorism through those extremists."

On September 21, Russia's Foreign Minister, Sergey Lavrov, told his US counterpart John Kerry, that Washington must respect Syria's sovereignty while dealing with the IS.

Lavrov stressed "the importance of coordinated action... by the international community aimed at countering the threat" coming from IS.

READ MORE: Ron Paul: Obama's bombing campaign in Iraq and Syria 'immoral and illegal'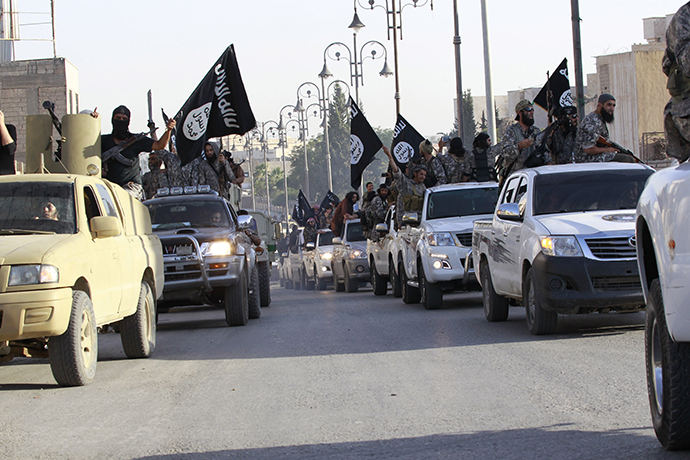 READ MORE: Lavrov: US must stop acting like global prosecutor, judge and executioner

However, he warned against "double standards" and "distortion of facts" during the battle against the terrorist group, which has declared a caliphate in the occupied territories of Syria and Iraq.

Moualem on his behalf implied a degree of support for the international effort in suppressing ISIS militants, but with respect for "national sovereignty".

"It is high time that we gather all our efforts," he said. "ISIS …let us exert pressure on the countries that joined the coalition led by the US to stop their support of the armed terrorist groups."

Several rounds of sanctions have been imposed on Syria by the US and EU, with embargoes and travel bans being in place against certain officials.

The Syrian FM pointed that sanctions can be counterproductive.

"The inhuman sanctions imposed by the EU and US aggravated the living conditions of Syrian civilians. At the same time, in collaborating with the UN, my government…is willing to meet the basic needs…of the citizens, especially those forced by terrorist attacks to flee," he said.
You can share this story on social media: