Ex-Holy See ambassador faces 1st Vatican child sex abuse trial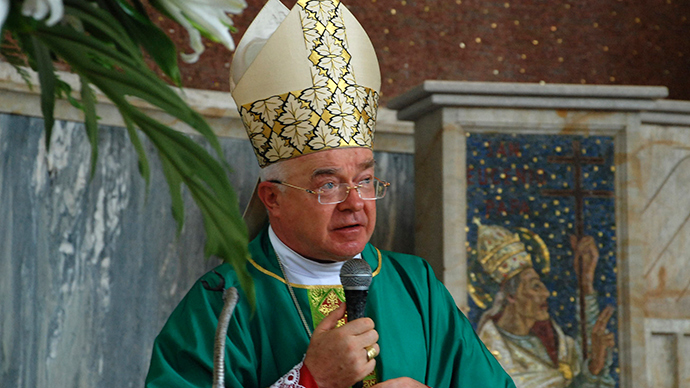 The Vatican has put its former ambassador to the Dominican Republic, Josef Wesolowski, under house arrest ahead of a trial on pedophilia charges. It's the first time in modern history a senior Vatican official has faced such a serious prosecution.
The Holy See, the Catholic Church jurisdiction in Rome, summoned the cleric last August, following reports that he allegedly sexually abused teenage boys in the Dominican Republic and paid them to masturbate in front of him.
For some time, Wesolowski lived freely in Rome, prompting victims of sexual abuse to voice concerns that he would escape justice, Reuters reported.
The government of the Dominican Republic started a criminal investigation, but did not press charges due to Wesolowski's diplomatic immunity. Last month, though, a Santo Domingo court considered the possibility of charging him, as Vatican had defrocked him, thus canceling his immunity.
On Tuesday, the office of the Dominican Republic's attorney general asked for more information from the Vatican on how it made the decision to put Wesolowski under house arrest and start a criminal trial against him before advancing further in the case, AP reported.
Polish-born Wesolowski, 66, was defrocked in June, following the Vatican's canon law finding him guilty. At the time, the toughest religious penalty was implemented: laicization, or the return to life as a layman.
Wesolowski handed in medical documents claiming he had health problems that ruled out confinement at the Vatican's only prison, a couple of rooms attached to the courthouse, a Vatican statement said.
He could face up to 12 years in jail if found guilty by the Vatican's criminal court, but it's not clear if he would serve the term in a Vatican or Italian prison.
Speaking on the case, Pope Francis said that no prelate, whether a priest or a cardinal, has any privileges protecting them from prosecution over child sexual abuse.
The Vatican said in a statement that the arrest was in accordance with the wishes of Pope Francis "that such a grave and delicate case be handled without delay, with the just and necessary rigor."
In July, Francis said that the Church should "weep and make reparation" for sexual abuse by clergy.
Last May, Francis called pedophilia an "ugly crime" and compared it with "a Satanic mass," Reuters reported.
Wesolowski is the highest-ranking cleric to be arrested since Paolo Gabriele, an ex-papal butler convicted two years ago of stealing and leaking private documents belonging to Francis's predecessor, former Pope Benedict XVI.
You can share this story on social media: