Veteran guard claims 'secret gay society' inside Vatican is a security threat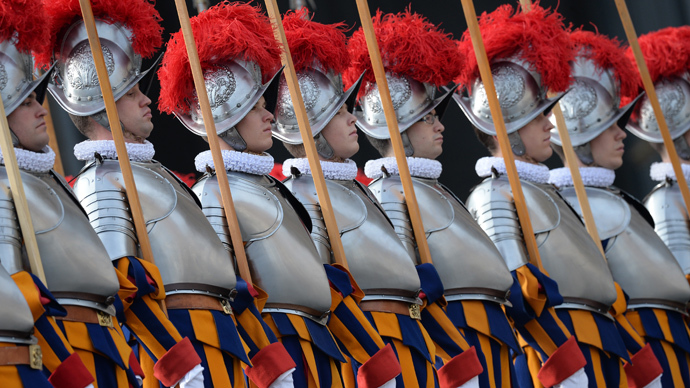 There is a "network of homosexuals" inside the Vatican that could present a security risk to the Pope, according to a former commander of the Swiss Guard in what is just the latest in a number of allegations of homosexuality inside the Catholic Church.
Elmar Mäder - who served as commandant of the Swiss Guard, the small force charged with protecting the pontiff inside the Vatican, from 2002 through 2008 – said he "cannot refute the claim that there is a network of homosexuals. My experience would indicate the existence of such a thing."
Mäder, 50, was speaking to Schweiz am Sonntag, the same Swiss newspaper that reported earlier this month an anonymous guardsman said he was the subject of over 20 "unambiguous sexual requests" from clergymen inside Vatican City.
Numerous former officials have come forward in recent years to tell members of the international press that the Vatican, while officially against homosexuality, turns a blind eye to same-sex relations inside the city. Mäder said he is not coming forward out of intolerance, but to avoid the creation of a secret community inside the holy city.
Mäder admitted he would not have promoted a gay member of the Swiss Guard because "the risk of disloyalty would have been too high."
"I also learned that many homosexuals are inclined to be more loyal to each other than to other people or institutions," he said. "If this loyalty were to go so far as to become a network or even a kind of secret society, I would not tolerate it in my sphere of decision making. Key people in the Vatican now seem to think similarly."
What Mäder may have been referring to was Pope Francis' headline-grabbing interview with reporters on a flight to the Vatican from Brazil last year, in which he indicated for the first time in recent memory that the Church may be becoming more tolerant.
"They say there are some gay people here," Francis said. "I think that when we encounter a gay person, we must make the distinction between the fact of a person being gay and the fact of a lobby, because lobbies are not good…Who am I to judge?"
The anonymous guard who spoke to Schweiz am Sonntag earlier this month said that a priest had invited him to dinner before saying the guard should be served for dessert. In another instance, he said, a senior member of the clergy fondled him and left a bottle of whiskey on his bed.
While that source went unnamed, he criticized the Vatican for its "hypocrisy," a charge inspired by the church's opposition to marriage equality and treatment of divorced heterosexual couples.
Mäder's comments have drawn criticism from equality groups, with one advising the former commandant to "become better informed" and another, Franco Grillini, the chairman of Gaynet saying that any fears were unfounded.
"Statistically, gays are the least violent group in human society, so if the people were really surrounded by homosexuality, he could sleep easy," Grillini told the Guardian.
You can share this story on social media: